Windows 8 Release Expected in 2012 article says that Windows 8 will be with us in 2012. Windows 8 Features And Release Date article expect Windows 8 to be launched sometime in mid-late 2012. For details how Windows 8 looks take a look at Building "Windows 8″ – Video #1. For latest details check also Microsoft Newsroom on Windows 8 and Windows-ARM.Com.
The biggest changes in underlying technology is that Windows 8 is supposed to run on either the x86 or ARM architectures. Microsoft is in the process of rebuilding Windows for the post-PC era, by stepping back from its core roots (Intel processors) and embracing ARM. Windows-on-ARM Spells End of Wintel article tells that Brokerage house Nomura Equity Research forecasts that the emerging partnership between Microsoft and ARM will likely end the Windows-Intel duopoly. ARM-based chip vendors that Microsoft is working with (TI, Nvidia, Qualcomm) are now focused on mobile devices (smartphones, tablets, etc.).
Making the Windows to run other platforms than x86 seems to be a big change, but this is not the first time Microsoft has tried that (there has been once Windows NT for DEC Alpha and still Windows Server 2008 for Itanium). ARM is now hot and Microsoft is active pushing Windows 8 to use it. Sinofsky shows off Windows 8 on ARM and Office15 article tells that Windows boss Stephen Sinofsky has ended months of speculation with the first (fairly) detailed drilldown into Windows 8 on ARM (WOA) platform, and says it should be ready for a simultaneous launch with its x86/64 counterpart. WOA includes desktop versions of the new Microsoft Word, Excel, PowerPoint, and OneNote. WOA is, as Sinofsky said, "a new member of the Windows family," but it's not Windows 8. It's entirely new, and because it works only on ARM devices. Windows on ARM software will not be sold or distributed independent of a new WOA PC. In other words, WOA is to Windows as iOS is to Mac OS X.
Devices running WOA will come with both a Metro touch-based interface and the more traditional desktop, and will run Word, Excel, PowerPoint, and OneNote applications with full document compatibility with x86/64 systems. One thing was made crystal clear by Microsoft: Windows 8 on ARM will not be the same experience as Windows 8 on Intel-AMD.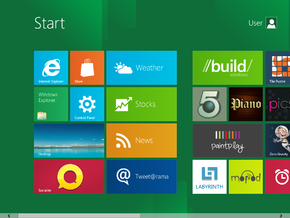 How the two flavors of Windows 8 will be different article gives some details how Windows 8 on ARM is different from Windows 8 on X86. Windows 8 on ARM will not be the same experience as Windows 8 on Intel-AMD.
Building Windows for the ARM processor architecture article from Building Windows 8 blog is a goldmine to all you who are interested in more details on Windows 8 on ARM (WOA) platform. This post is about the technical foundation of what we call, for the purposes of this post, Windows on ARM, or WOA. WOA is a new member of the Windows family, much like Windows Server, Windows Embedded, or Windows Phone.
WOA builds on the foundation of Windows, has a very high degree of commonality and very significant shared code with Windows 8. Many low level details needed to be rewritten, but there is a significant portion of Windows that is generally built with code that can be made to work on ARM in a technically straightforward manner. These subsystems include the Windows desktop and applets and supporting APIs, though those needed to modified for better resource and power utilization. Enabling Windows to run well on the ARM architecture was a significant engineering task.
Here are my collection of the most important points I found from How the two flavors of Windows 8 will be different and Building Windows for the ARM processor architecture articles.
Windows 8 ARM devices will run on ARM processors from Texas Instruments, Qualcomm, and Nvidia, all running the same Windows OS binaries. WOA PCs use hardware support for offloading specific work from the main processor to integrated hardware subsystems to improve performance and battery life. ARM SoCs for WOA have DirectX capable GPUs (DX) for accelerated graphics in Internet Explorer 10, in the user interface of Windows, and in Metro style apps. WOA PCs are still under development, and thee goal is for PC makers to ship them the same time as PCs designed for Windows 8 on x86/64.
Windows 8 on ARM will not run traditional Windows 7 stuff (WIN32 x86 applications) because the processor is completely different and WOA will not support any type of virtualization or emulation. WOA does not support running, emulating, or porting existing x86/64 desktop apps.
Labeling to "avoid confusion": When a consumer buys a Windows on ARM PC, it will be "clearly labeled and branded" so as to avoid potential confusion with Windows 8 on x86/64. Device makers work with ARM partners to create a device that is "strictly paired with a specific set of software (and sometimes vice versa), and consumers purchase this complete package, which is then serviced and updated through a single pipeline."
Windows on ARM devices don't turn off: You don't turn off a WOA PC, according to Sinofsky. WOA PCs will not have the traditional hibernate and sleep options. Instead, WOA PCs always operate in the Connected Standby power mode, similar to the way you use a mobile phone today. Read Engineering Windows 8 for mobile networks for more details.
WOA supports the Windows desktop experience including File Explorer, Internet Explorer 10 for the desktop. Out of the box Windows on should ARM will feel like Windows 8 on x86/64. Sign in, app launching, Internet Explorer 10, peripherals, the Windows desktop and Windows Store access are the same. You will have access to the intrinsic capabilities of Windows desktop with tools like Windows File Explorer and desktop Internet Explorer if you want to use your mobile device in this way. Or you can use the Metro style desktop and Metro style apps (like what you see on Windows phone smartphones) if you like that more.
Metro style apps in the Windows Store can support both WOA and Windows 8 on x86/64. Developers wishing to target WOA do so by writing applications for the WinRT (Windows APIs for building Metro style apps) using the new Visual Studio 11 tools in a variety of languages, including C#/VB/XAML and Jscript/ HTML5.

Together talking on launching Windows 8 Microsoft also talks about new Windows Mobile Phone 8 and it's integration with Windows 8. Windows Phone 8 Detailed article gives some details what integration with Windows 8 means. Windows Phone 8 won't just share a UI with the next-generation desktop and tablet OS, apparently: it will use many of the same components as Windows 8, allowing developers to "reuse most of their code" when porting an app from desktop to phone. The kernel, networking stacks, security, and multimedia support as areas of heavy overlap.
Windows Phone 8 is the version of the platform currently being referred to by codename "Apollo" (the one scheduled for deployment after the upcoming Tango update). Microsoft insider Paul Thurrott has published a post confirming many of the details.