Just because new computers no longer include the venerable serial port doesn't mean it's dead. The Serial Port: It Just Keeps Going article tells (and I can agree to that that) in fact, the serial port is still thriving in many test instruments, industrial controls and medical devices. You'll find RS-232, RS-422, and RS-485 serial ports on millions of devices in use today. With new PCs lacking serial ports, you need some kind of converter board to connect to your equipment. There's a myriad of converter boards and modules out there, from PCI Express and USB to legacy fiber and the ISA bus.
Getting medical devices onto the LAN article tells that many medical devices are restricted to RS-232 communication, and will remain so for some time to come. That doesn't preclude them from being networked. Suitable serial port to Ethernet converter can convert RS-232 to Ethernet.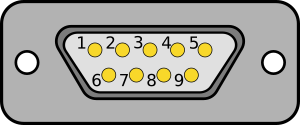 The same RS-232 server connected to LAN approach works also in many industrial applications. There are very many SCADA systems that use field devices with RS-232 communication ports (those devices can be quite old because they are designed to work reliably for long time). When old direct modem lines get more and more replaced with LAN/WAN/Internet connections, those RS-232 serial port servers get more and more common in communicating with such device. Signals from RS-232 port can travel very long distances when they are converted to TCP/IP and transported using suitable networking technology suitable for the environment. In very noisy industrial environment converting from serial port to fiber optic is a good option.
Even if you can't see traditional serial port connectors on many modern devices, many of embedded systems used those devices have serial ports hidden somewhere. Those serial ports can be hidden in the circuit board where you can tap in the right pins. Typically the serial signals on the circuit board are at TTL level (usually at 5V TTL or nowadays more often 3.3V LVTTL or even lower). To make traditional serial port to communicate with such signal levels, you need a adapter like one described at RS-232-to-TTL converter tests UARTs with a PC article. Other option is to get USB to TTL level serial port adapter.
Reverse Engineering Serial Ports article tells that once you've identified the pins, you need to actually communicate with the device. Although there's no easy way to guess the data, parity, and stop bits except for using the standard 8N1 and hoping for the best There are also some software that helps to quickly identify the baud rate.
Getting a Shell on any Android Device article tells that Android Debug Bridge (ADB) is a handy way to get a shell on any Android device with just a USB cable. The ADB can be turned off, but in many Android devices there is an have the answer that involves a little-known property of USB devices: hidden serial port. USB mini and micro plugs have five pins – power, ground, D+, D-, and an oft-overlooked ID pin. With a particular resistance between this ID pin and ground, the USB multiplexor inside your phone can allow anyone with the proper hardware to access the state of the charger, get an audio signal, mess around with the MP3s on your device, or even get a shell.