DIY Wi-Fi Wireless Switch For Smart Home With ABS Shell Socket Remote Control Switch Module is an IoT home automation device. This device, also known as Sonoff from ITEAD, can control 110V to 230V AC mains power on/off (up to 7A or 10A depending on document). The switch is controlled with mobile app (or local buttom). The control works so that this IoT device uses WiFi Internet communications to cloud serrvice. For more details read User Guide for ITEAD Smart Home Devices.
Power: <=0.5W
Rate Voltage: 100-260V
Control mode: Mobile APP (Android, iOS)

Transmission mode: Wi-Fi communication;

Power: 7A/1500W
Thsi device is maybe the cheapest IoT which that can control 230V power wirh iPhone and Android. This is ready to use device as it is. I am disappointed since I need to use and install an external app to use it. The app did not feel to be good or reliable (problems in getting the device detected and connected to home WiFi etc..)
It can be also customized if you want. The device is based on very popular ESP8266 IoT chip. The firmware inside device can be flashed just like any other ESP8266 dev board, there is even programming contacts easily accessible (place to solder pin header).
Let's look what is inside this device. Here is the box the Sonoff IoT swiching device came to me: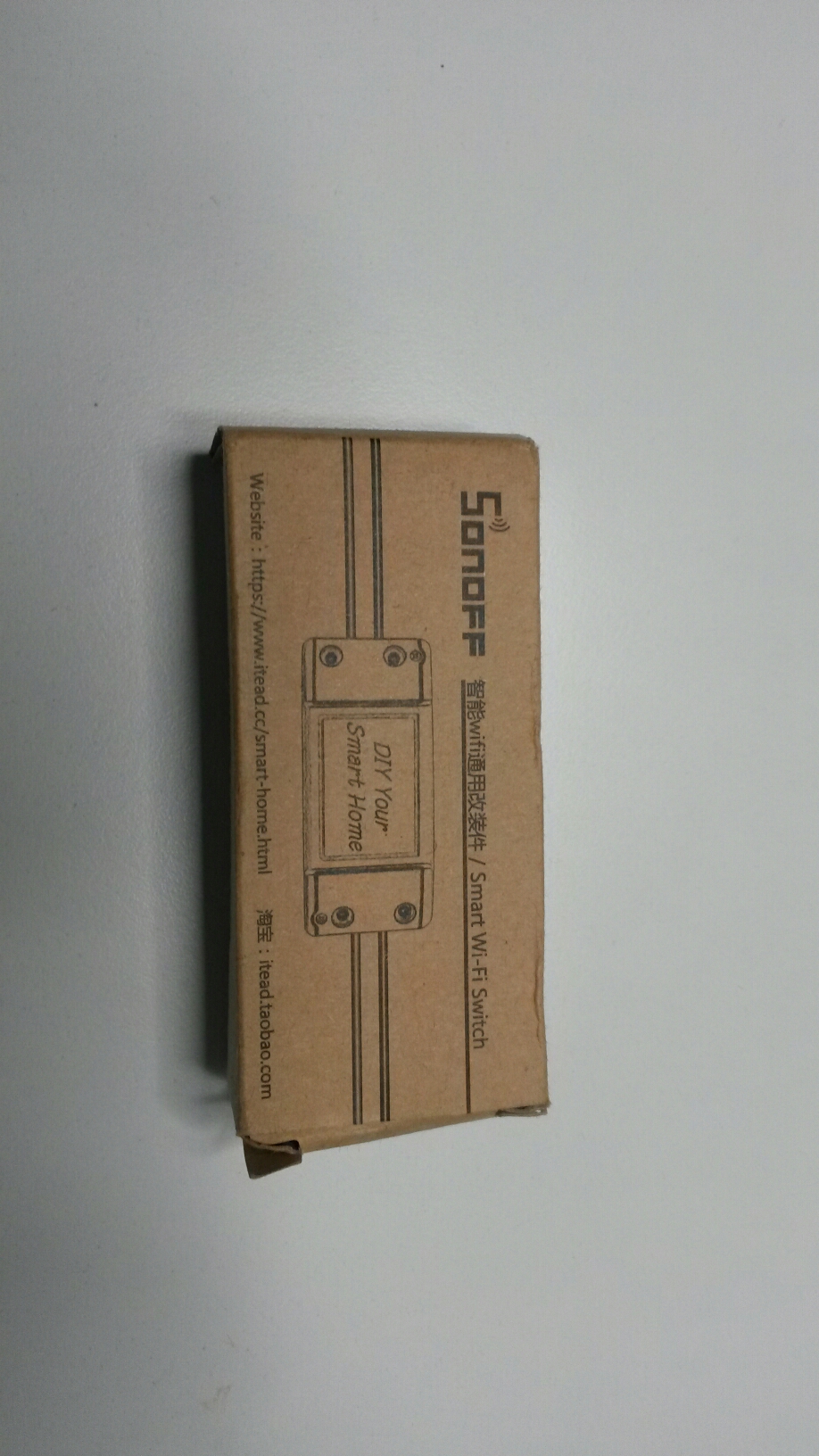 Here is picture of the device itself (I had already added mains input cable to it).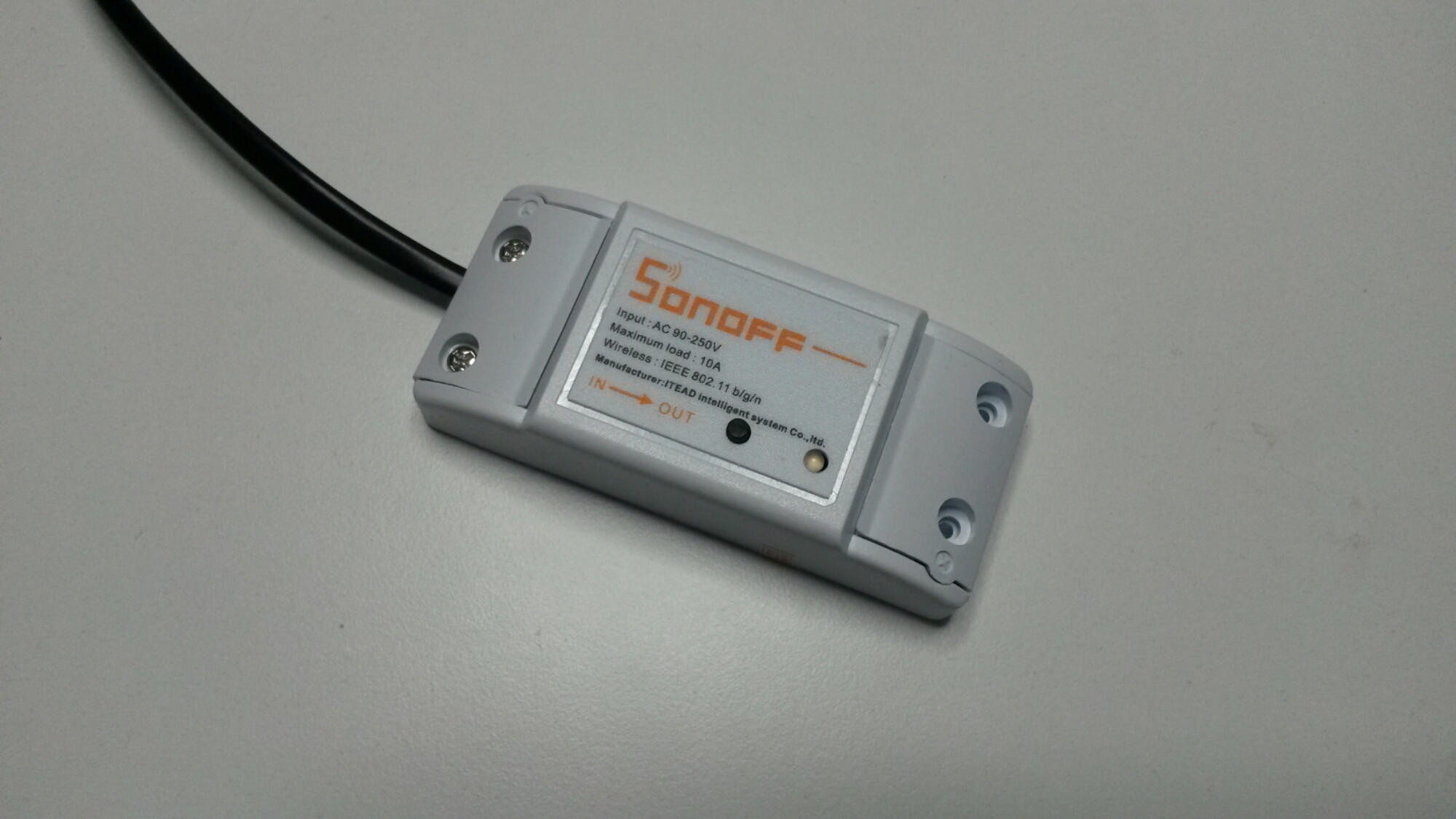 For cable connection the device provides normal OK screw terminals.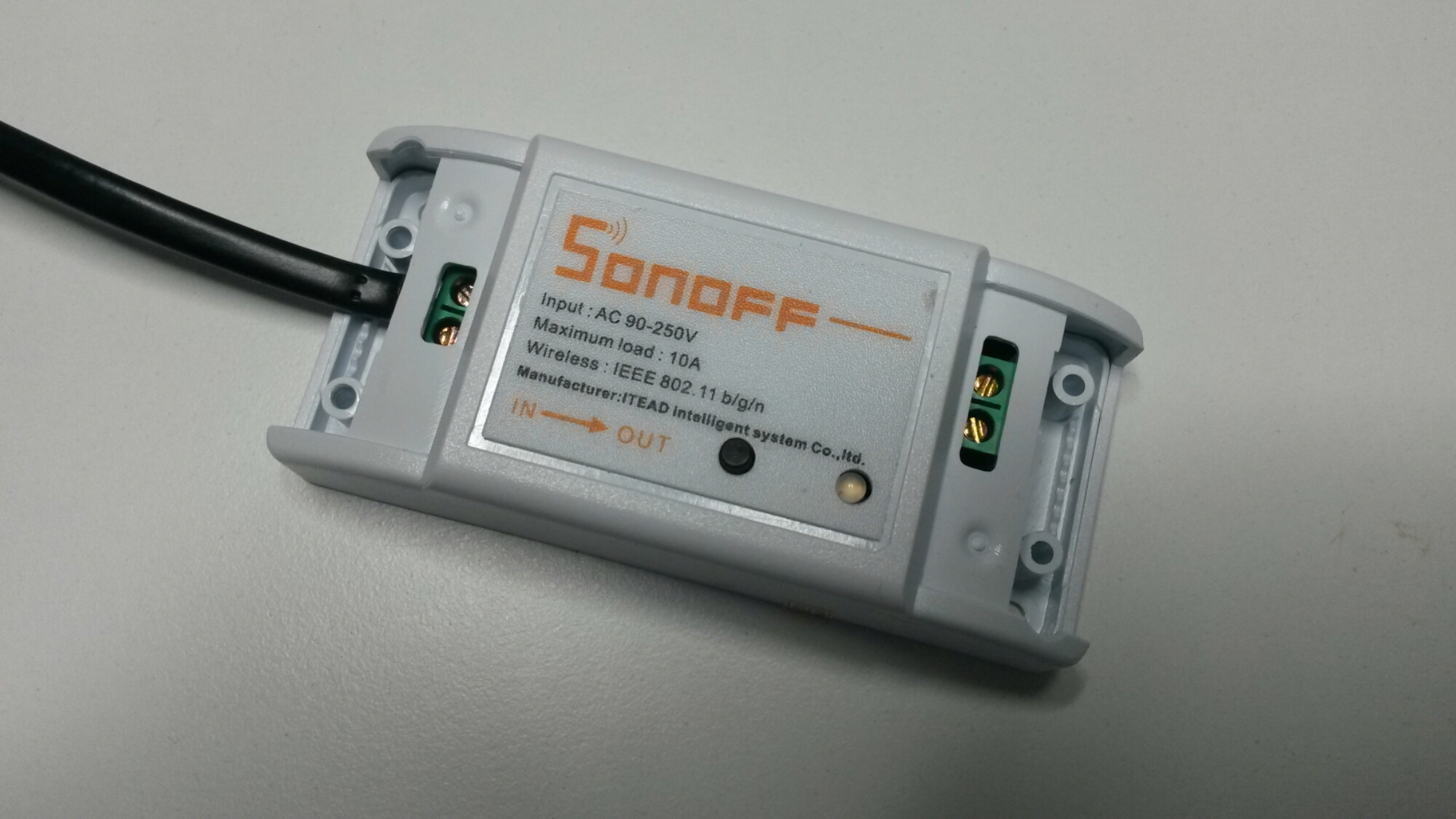 The case protects the screws well and works as strain relief for the mains cable.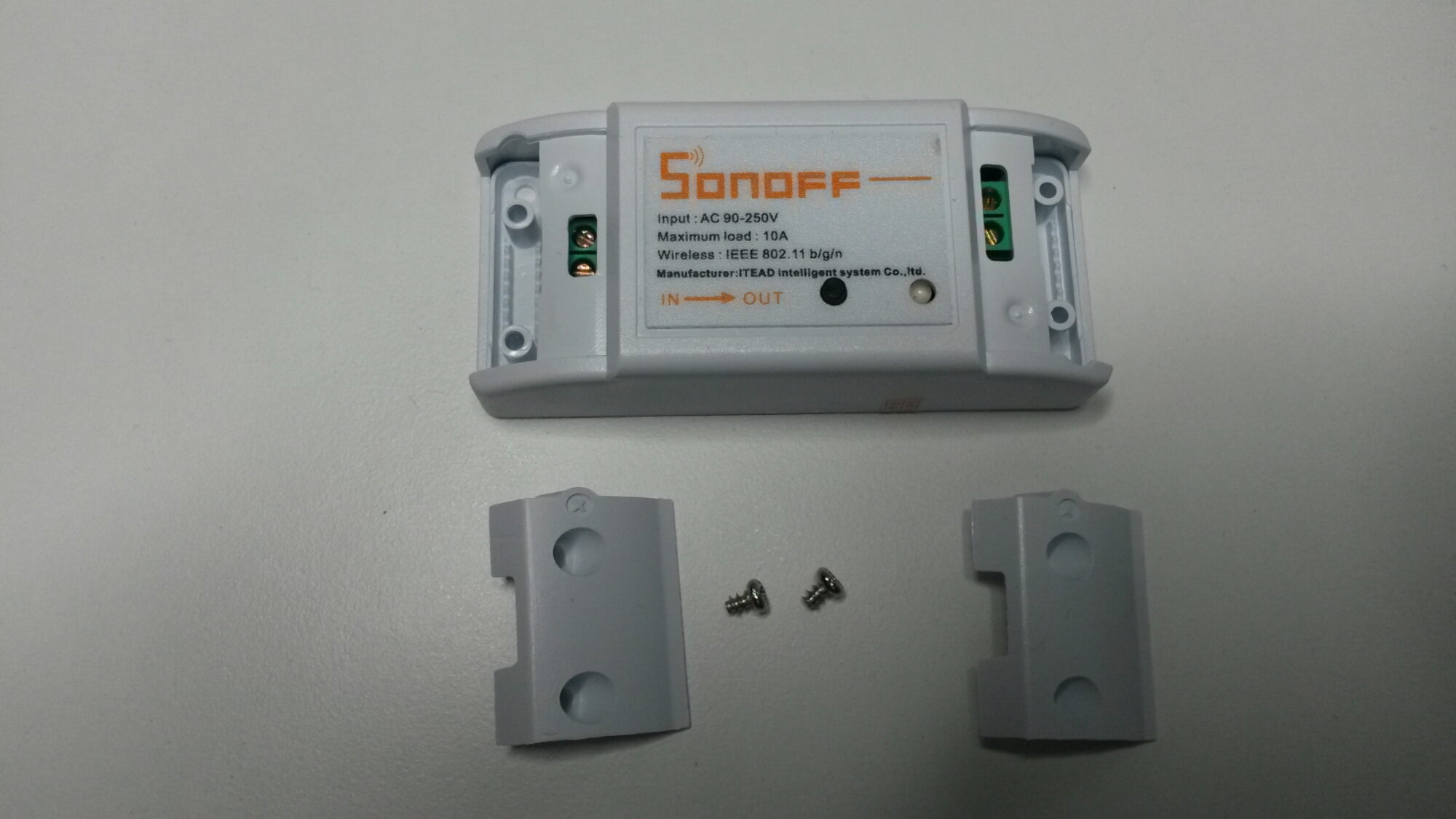 Let's open the main case to see the electronics inside.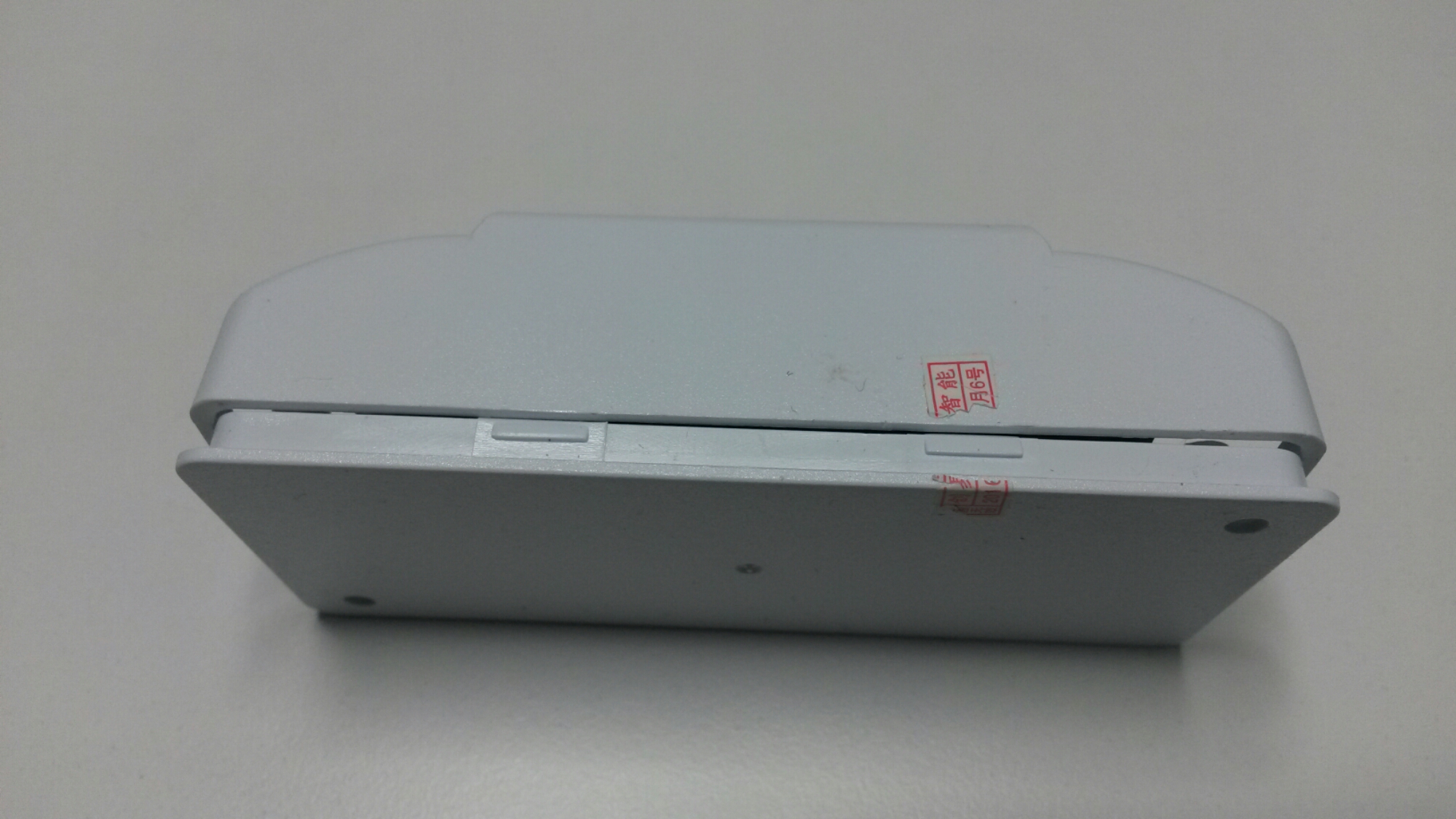 The circuit board looks nice.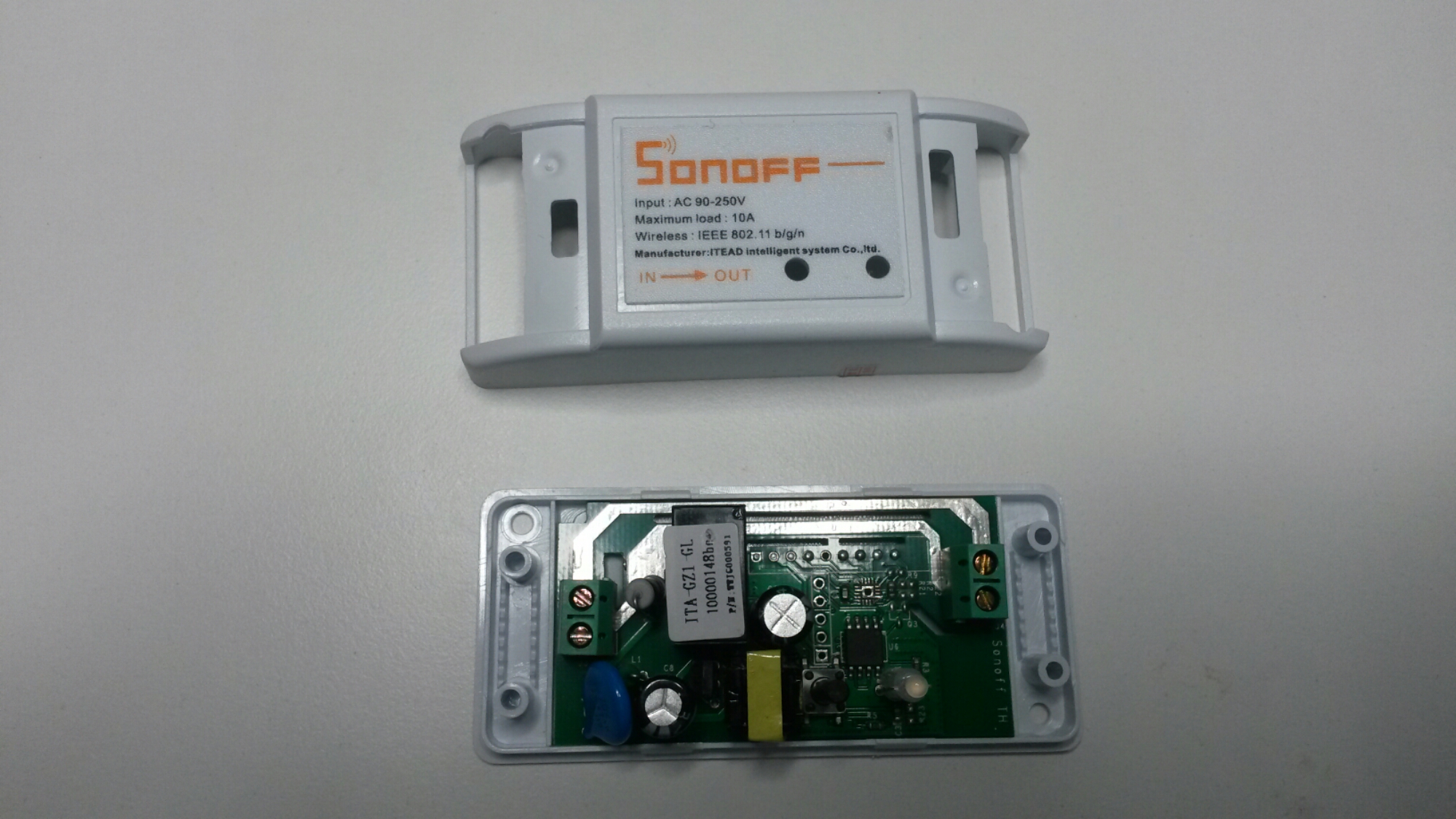 On this side of the board the biggest components are the mains power controlling relay and power supply transformer. The IC you see on the circuit board is iW1700 switch mode power supply IC. On the left side the blue disk is VDR that protects agains overvoltage. The big grey resistor is "fusible resistor" that acts like surge current limiter and serious overload protection (like fuse).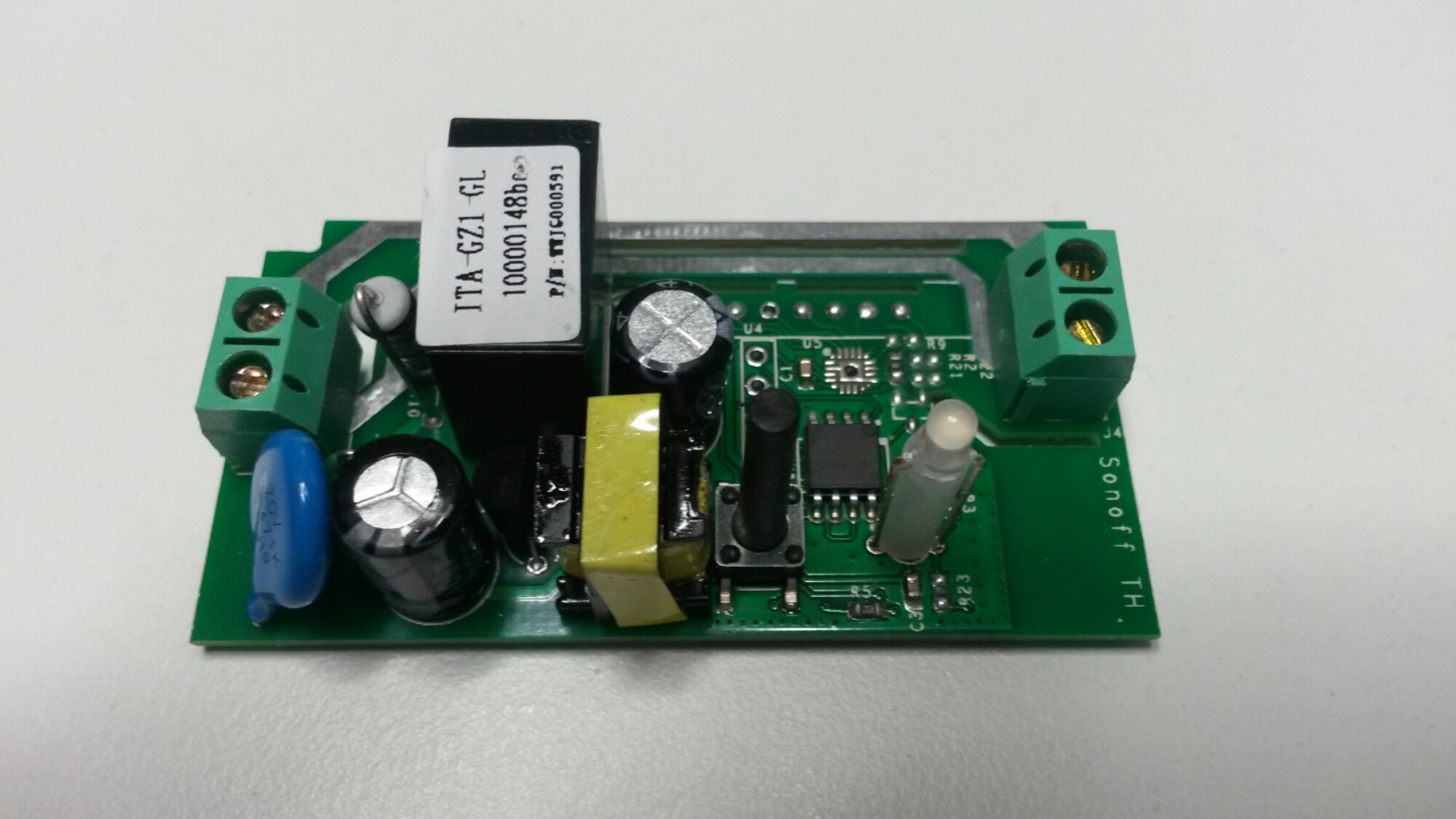 On hte bottom of the board the most important components are ESP8266, rectifier and voltage regulator. The swich mode power supply generates 5V power that is used directly for the relay coil. The 3.3V for ESP8266 is made with linear regulator from that 5V.
Take a note on the cut-outs on the circuit board, they are here to make sure that the mains power traces don't be too near to each other (to make short circuit).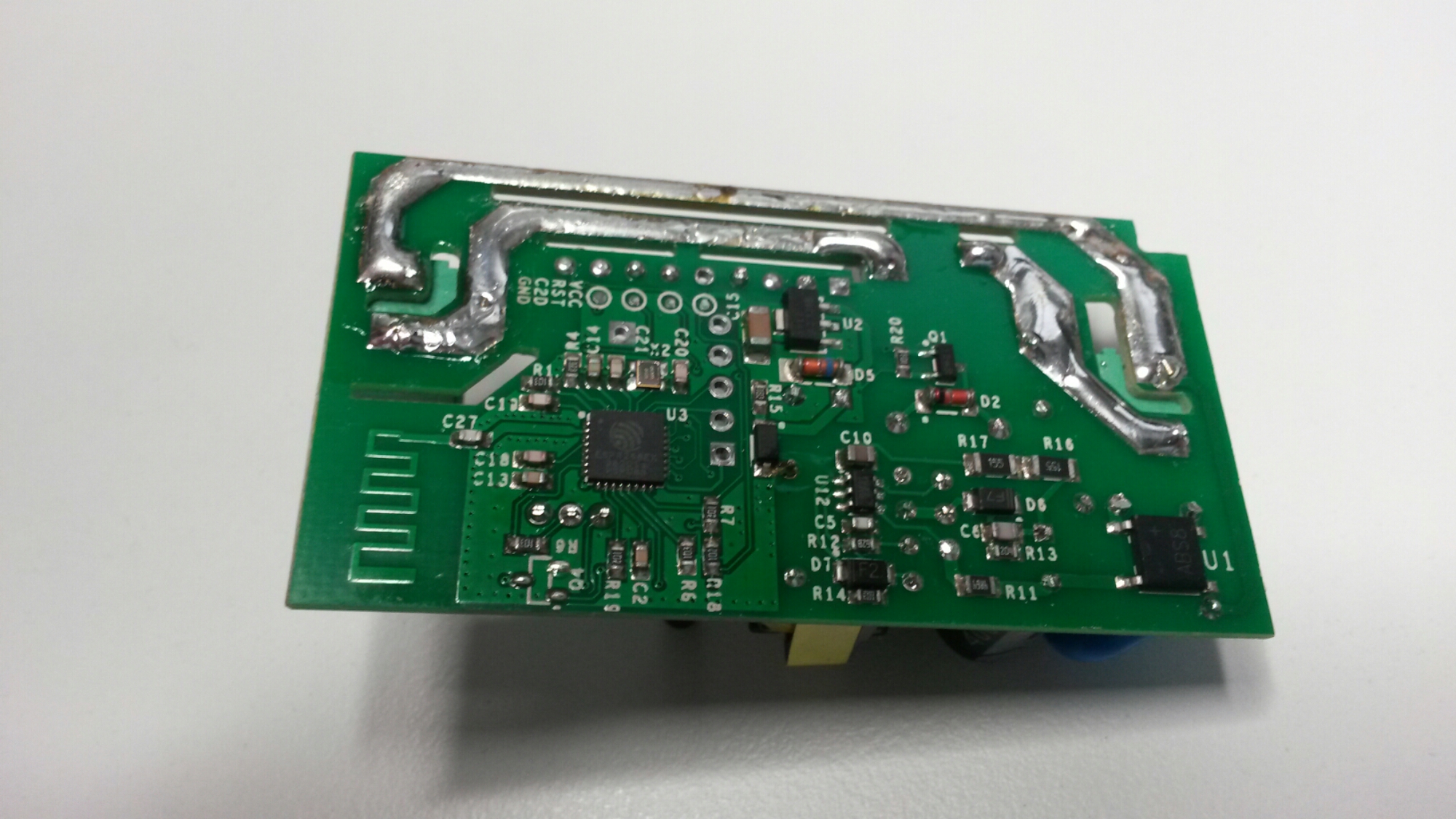 For more details on the actual circuit details, refers to the schematic available at http://www.communica.co.za/Content/Catalog/Documents/D0917396801.pdf
Links to more information
ITEAD Sonoff and Slampher Review (and Teardown)
Sonoff more information:
https://www.itead.cc/sonoff-wifi-wireless-switch.html
https://www.itead.cc/wiki/Sonoff_Smart_Home_Solution
https://www.itead.cc/blog/user-guide-for-sonoff-slampher
https://www.element14.com/community/groups/internet-of-things/blog/2015/12/25/itead-studio-sonoff-and-slampher-low-cost-smart-home-solution–review
https://www.domoticz.com/forum/viewtopic.php?t=9670
http://www.banggood.com/DIY-Wi-Fi-Wireless-Switch-For-Smart-Home-With-ABS-Shell-p-1019971.html
https://www.itead.cc/sonoff-wifi-wireless-switch.html
http://tech.scargill.net/itead-slampher-and-sonoff/
http://blog.squix.org/2016/01/esp8266-products-hitting-market.html
https://hackspark.fr/en/sonoff-esp8266-wifi-smart-relay-switch.html
http://electronicopensource.blogspot.fi/
http://www.communica.co.za/catalog/Details/P0240254864
http://tech.scargill.net/itead-slampher-and-sonoff/
https://nathan.chantrell.net/20160422/esp8266-relay-modules-from-itead-and-electrodragon/
Schematic
http://www.communica.co.za/Content/Catalog/Documents/D0917396801.pdf
Component data
http://www.dialog-semiconductor.com/sites/default/files/iw1700-datasheet.pdf
https://www.itead.cc/wiki/AC-DC_Power_Module_5V_500mA
http://www.futureelectronics.com/en/technologies/electromechanical/relays/power-relays/Pages/9002503-HF32F-G-05-HS%20(257).aspx?IM=0
http://www.hongfa.com/pro/pdf/HF32F-G_en.pdf
Alternative firmware
https://bitbucket.org/xoseperez/espurna