A font provides a resource containing the visual representation of characters. Web Typography has been traditionally been pretty limited. Until font downloading technology is perfected, Web designers must normally restrict themselves to fonts that are available on most users' computer systems.
Because of technical (and licensing) restrictions, dynamic fonts used on the web have been limited to a small subset of styles. On the positive side, over the last twelve months the landscape for web typography has changed dramatically. Font loading technology starts to be on state that dynamic font loading could be useful on web development. This can change the way you design websites. At least the companies providign those fonts want this to happen.
CSS Fonts Module Level 3 module describes how font properties are specified and how font resources are loaded dynamically. Note that you need a recent webbrowser that supports webfonts (Firefox 3.5+, Opera 10+, Safari 4+, or Google Chrome with "–enable-remote-fonts" enabled) to see the fonts). Internet Explorer does not support webfonts yet, they have their own different font technology (Microsoft Embedded Open Type).
Introducing the Google Font API & Google Font Directy article describes the fonts Google offers. Web fonts, enabled by the CSS3 @font-face standard, are hosted in the cloud and sent to browsers as needed. There is a collection of high quality open source web fonts in the Google Font Directory, and the Google Font API to make them available to everybody on the web.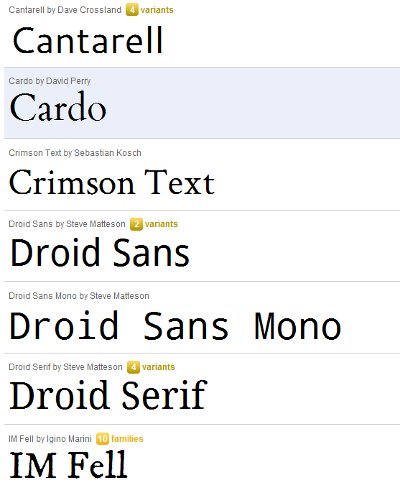 There are also other font service providers to consider. Adobe partners with Typekit to bring legendary typefaces to the web. For example Fonts.com, Typekit.com and fontit.com promise to give a large selection of fonts for their customers in a format that works with most browsers.
Web font services are pushing the adoption of web fonts forward as well as getting more and more foundries (and designers and developers) comfortable with using and licensing fonts for the web. Readability and web browser rendering are important issues that needs to be taken into consideration when you plan to use fonts in your own designs. Just because you can use a script font to display your primary content doesn't mean that you should.
And when you use downloadable fonts from other site there is an issue of service availability and reliabity. What does happen if the font provider server happens to be down? Is your content accessable at all or does to load very slowly and show with wrong fonts? Using fonts from other service will make your web site more dependent on other services. Even most reliable services can be sometimes down or inaccessable for some times. I just witnesses few days ago few hours of outage of all Google services for me (there was some routing problems), and that rendered most of the web sites practically useless (very many pages not loading because waiting for Google advertisements..). More your service relies on many outside providers, the more oftem it is not accessible dues reasons outside your control! Think about that.