If you're watching the World Cup or just seen few clips on the news, you've no doubt learned about the vuvuzela, a buzzing horn capable of drowning out TV announcers. There are are many people who want to to filter the vuvuzela buzz from your World Cup broadcasts.
Anti Vuvuzela Filter marketed article tells that AN ONLINE company has begun marketing an 'Anti Vuvuzela Filter' that promises to silence the sound of the controversial plastic trumpets that have become the trademark of South Africa's World Cup. 'Just download our specially designed vuvuzela noise cancellation MP3 and play it back on your home stereo system, computer, iPod, iPhone, etc.,' the web site says. Idea 'a marketing hype and a total waste of money. Noise canceling depends on specific positions, when done exactly right you get noticeably canceling and when done slightly wrong you get more of that sound you get rid of. The fact is that you're not going to get any practical canceling with this method.
But there are real anti Vuvuzela solutions that work. For example Finnish national broadcasting company YLE uses a special filter to attenuate vivuzela horn sound on their broadcasts.
Vuvuzela-Filter web page (written in German but you can read English translation) gives information how this kind of filter works. Vuvuzela keynote frequency is 233 Hertz so that is the frequency that needs to be attenuated. In addition it is a good idea to attenuate the strongest keynote harmonics. For the Vuvuzela-killer, we need only a high-slope band stop filter that takes out those frequencies.
How to reduce the constant drone of the World Cup page gives instructions how to do that filtering with a laptop PC. How to Silence Vuvuzela Horns in World Cup Broadcasts page tells how to with computer or hifi equalizer.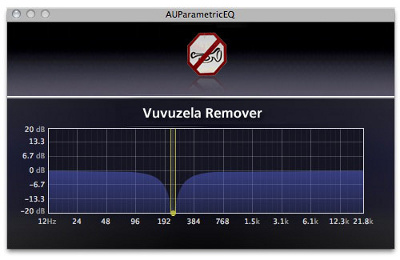 Image source: http://lifehacker.com/5564085/how-to-silence-vuvuzela-horns-with-an-eq-filter