Good grounds do not mean you will not get ground loop noise. The two are completely different balls of wax. No matter how much you sand the surface, no how good your connectors are, no matter how tight it is bolted down, you are still going to have ground loops. Having a ground loop does not necessarily imply having ground loop noise in your system.
A ground loop is created by grounding two or more circuits to the same common ground. Ideally, both grounds should be at the same potential. But due to resistances created in wiring, the physical connection to the ground and magnetic fields coupled to wiring, this can result in different potentials being created. Those potential differences between grounds can cause an unwanted current to flow through your system, which is literally what you hear when you hear ground noise.
The best solution to this is to ground everything at one point, where the chances of equal potential will be at their highest (battery in car and incoming power feed in mains powered systems). There is still a chance that you will get ground noise there, but it is the most ideal spot for a number of reasons, equal potential being one, and the least resistive point being another.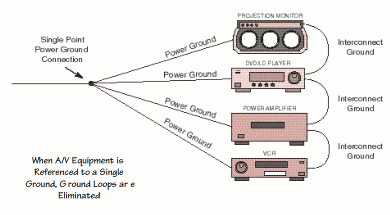 Design-in of RF circuits white paper says that RF circuit boards should always be laid out with a ground plane connected to the negative power supply. If this is not done properly, obscure circuit behavior might occur. At RF frequencies even a short line will work as an inductor. As a coarse rule of thumb, the inductance will be about 1 nH (nanohenry) per mm of length. At 434 MHz a 10 mm PCB line will then present an inductive impedance of 27 ohm. If a ground plane is not used, most ground lines will be longer than this and the RF circuit board will almost guaranteed not be functional. A solid ground plane should always be used when designing a PCB containing RF components.