At one point or another, you will probably find yourself needing to solder a SMD (Surface Mount Device) package. Many people here might think SMD soldering is almost impossible. SMD soldering is usually a lot easier than it looks!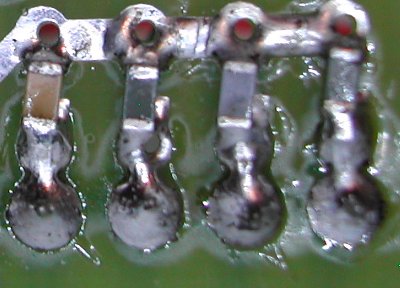 First you need right tools. The tweezers are very important in the entire SMD soldering process. Small diameter solder is a must (sometimes soldering paste is used instead traditional solder wire). You also need a suitable soldering iron. Depending what you do you need a very small or quite large soldering iron tip. You can start learning the skill with a normal temperature controlled soldering iron with a small tip.
The flux is very very important. Flux pen makes applying the flux very easy. Easiest is to use a flux type that you don't necessarily need to wash off after soldering.
The solder-wick will help you clean solder off old pads, remove excess solder from solder joints, and remove solder bridges.
SMD Soldering Guide by Infidigm introduces SMD (Surface Mount Device) hand soldering. The guide is organized into different methods. A simplified list is included with each method to identify which types of SMD components are for the appropriate method.
Intro into SMD Soldering is a good tutorial on SMD soldering with example videos.
LOW COST SMD SOLDERING GUIDE article will take you through the process of soldering these surface mount parts, from simple two-pin parts to more complex TQFP.