Have you ever designed an electronic schematic then wanted to share it on your blog? Or wanted help improving your circuit on a forum? Ever peered at a tiny/massive image of a circuit on a website and wondered why on earth there wasn't a better alternative? I have done that quite often.
CircuitBee is a new online platform that promises to allow you to share live versions of your circuit schematics on your websites, blogs or forums.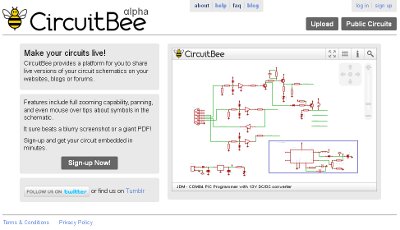 CircuitBee tries to be like YouTube or Scribd for your circuit schematics. CircuitBee hopes to grow into the most useful service for hobby electronics enthusiasts, so the service creators are going to keep the service free for as long as they can.
The idea is that you upload your schematics, and the service crunches the numbers and creates an online embeddable version of your schematic. It promises to be better than blurry screenshot or a giant PDF. CircuitBee features include full zooming capability, panning, and even mouse over tips about symbols in the schematic.
You embed the circuit diagram to your web page using iframe. The technology behind showing circuits seems to be based on modern HTML5 technologies: canvas + JavaScript.
CircuitBee currently supports most schematic files saved from KiCad. You can import Eagle schematics into CircuitBee by first converting them to KiCad format using a ULP script.
I am just waiting for time to get used to the KiCad for drawing the circuit diagrams. KiCad seems to be a promising free open source electronics design software, but there is some leaning curve before I can draw nice circuits with it. When I get something nice drawn with it, it will try to publish it here with CircuitBee. After that I can tell how it went.