I visited AudioVisual 2011 trade show briefly on 13. November 2011. The most interesting stuff I saw there was a presentation on shooting 3D video with Panasonic equipment. The presentation was given by Juha Lindqvist from Kaukomarkkinat. I originally planned to write an article on 3D video technology for Prosessori magazine, but because Prosessori magazine publication ended I have no reason to hold this material for a longer time.
Here are some notes I made from the presentation now presentation that I found interesting (have been interested in 3D technologies for long time and I have TV production experience from AssemblyTV).
Panasonic has been for several years been very active on live 3D TV productions. They provided the technology for 3D shooting of 2009 French Tennis Open. The entire 2011 French Tennis Open, Roland Garros, was broadcast live in 3D to over 17 countries across Europe. And several other events.
Panasonic has nowadays two main 3D TV camera models: AG-3DP1 and AG-3DA1. AG-3DA1 was the first integrated twin-lens full HD 3D camera recorder on the market. The AG-3DP1 is a newer P2HD Series integrated twin-lens 3D camera recorder. They are nowadays the main tools for 3D TV production. In addition to this also a side-by-side rig with two AK-HC1800 are used to shoot 3D TV material.
In 3D TV production setup each 3D camera has two HDSDI outputs: one for HD picture for left eye and other for HD picture for right eye. Those video signals go to 3D video capable video mixer that is used in the same way as normal TV production video mixer. At the moment AG-HMX1000 mixer (2/4 cameras) and AV-HS450 (16 ch 2D upgradeable to 9 ch 3D mixer). The monitoring of the 3D video is done on 3D capable LCD monitors and 3D glasses (shutter technology).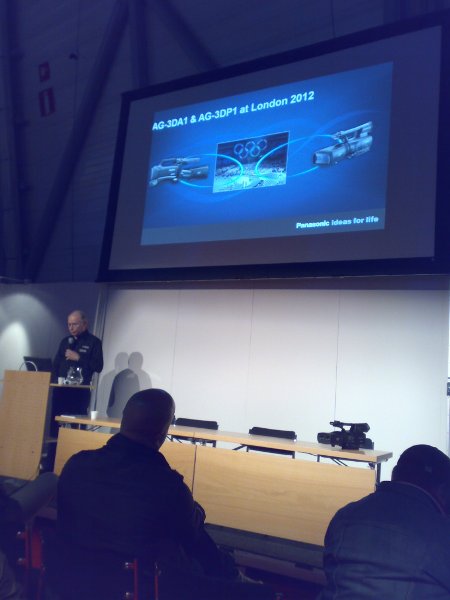 I earlier wrote that BBC plans to use 3D on London Olympics at summer 2012. The presentation gave some details on the actual 3D TV production hardware that is planned to be used on London Olympics. Panasonic has been for a long time been the company that has provided to TV broadcasting cameras and related equipment for Olympics for a long time. So practically all TV camera gear (2D and 3D) will be from them. The main 3D camera models to be used on London 2012 will be AG-3DA1 and AG-3DP1 (also two AK-HC1800 rig may be used). The video mixers will be AG-HMX1000 and AV-HS450. The 3D video monitoring will be done with BT-3DL2550 monitors.