There are many DIY case projects for Raspberry Pi computer. I though first to make my own case for my Raspberry Pi but I turned to ready made case because of lack of time to make my own and that ready made case became easily available.
Finnish electronics components shop Partco just got several Raspberry Pi products on it's list. I ended up buying Raspberry Pi MUOVIKOTELO LÄPINÄKYVÄ. It is a transparent plastic case for Raspberry Pi. The company listed similar plastic case at different colors, but at the moment they hard only transparent models available for purchase. Clear transparent case does not hide the nice Raspberry Pi electronics details.
The label on the Raspberry Pi MUOVIKOTELO LÄPINÄKYVÄ itself say is made by multicomp. The product code is P/N: MC-RP001-CLR.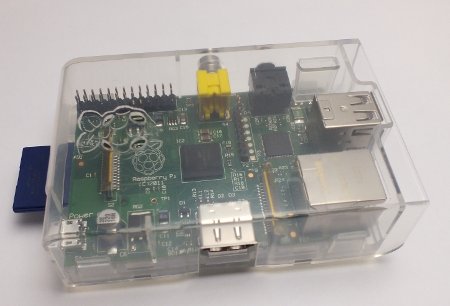 The case is a two piece construction: base and cover. According to data sheet it is moulded in a smooth finish ABS plastic. Base has side clips which positively locate the Raspberry Pi board into position allowing it to be operated with or without the top cover in place (this is useful if you want to play with GPIO pins).
The base comes with four rubber feet. There are also screw slots to allow the enclosure to be vertically mounted. Cover can be easily removed without the need to unplug any cables. There are vents in base and cover to allow some air flow to cool the board.
The case works as expected. It does well what it promises to do. The price I paid (8 Euros) was reasonable for the case like this.