EFFICIENT SOUND CARD BASED EXPERIMENTION AT DIFFERENT LEVELS OF NATURAL SCIENCE EDUCATION paper tells that sound cards can be turned into measurement tools, making science experimentation very efficient and cheap. Sound-card experimentation becomes really viable only if we demonstrate how to connect different sensors to the sound card and provide suitable open-source software to support the experiments. This paper present a few applications of sound cards in measurements: photogates, stopwatches and temperature measurement. The writers also provide the software for these applications.
Here is one good example circuit idea from the paper: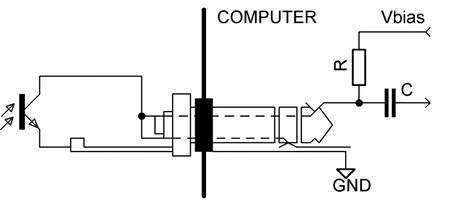 Phototransistors and photoresistors can be directly connected to the microphone input. The photodetector and the sound card's internal resistor R and Vbias voltage forms a light-controlled voltage divider, therefore a voltage pulse can be measured, if the light beam is blocked from the detector. The soundcard mic input capacitor C blocks all the DC component from the input signal, but all signal changes can be easily detected from the recorded sound signal.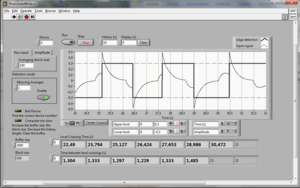 Sub-$10 sound card photogate variants page gives some ideas how you can easily build your own photogates.