World IPv6 Launch is coming after just few days. June 6th may seem like any other day to you, but a group of network operators, kit-makers and websites have determined it will become "World IPv6 launch day". It means that major Internet service providers (ISPs), home networking equipment manufacturers, and web companies around the world are coming together to permanently enable IPv6 for their products and services by 6 June 2012. AT&T, Comcast, Facebook, Google, Cisco, and Microsoft are among the companies participating. The Internet Society, Bing, Facebook, Yahoo!, Google, Comcast, Akamai, AT&T, Cisco and other tech heavyweights are all aboard the IPv6 launch day bandwagon.
Wednesday's World IPv6 Day is only one step in the transition to the next-generation system, it's expected to mark the beginning of a gradual (but slow) decline in popularity of the outgoing IPv4 standard. The participating Internet providers will begin to switch over a fraction of their residential subscribers on Wednesday, and router makers will enable IPv6 by default for their products. Home networking kit makers are taking perhaps the biggest step, by shipping IPv6-enabled kit as default. Just four vendors – Cisco, D-Link, NEC AccessTechnica and ZyXEL have made that commitment. Participating ISPs have ensured that at least 1% of their residential wireline subscribers who visit participating websites will do so using IPv6.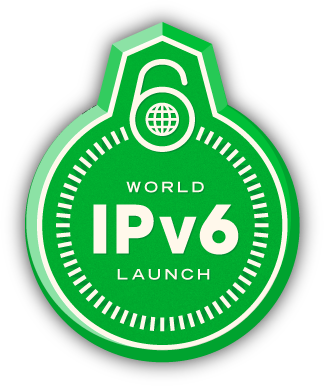 Turning on IPv6 was tried for one day about one year go at IPv6 day @ 8 June 2011. At the time only very few people at the time had problems at that time, so no major problems are expected now. If you are in doubt does everything work well you on IPv6 day and after it, try the IPv6 test links mentioned on my IPv6 day @ 8 June 2011 article. If everything is done right, customers will not even notice the change to IPv6.
As the Internet prepares to celebrate World IPv6 Day, law enforcement is worried the transition could hinder legitimate investigations. FBI: New Internet addresses could hinder police investigations article tells that the FBI is worried that an explosion of new Internet numeric addresses scheduled to begin next week may hinder its ability to conduct electronic investigations. Some tech companies agree it's a concern. It will "impact a service provider's ability to readily respond to legal requests from law enforcement agencies," according to the Broadband Internet Technical Advisory Group, or BITAG.
At the moment police can obtain a court order to trace an IPv4 Internet address such as 64.30.224.26 back to a single household. In theory, intercepting IPv6-only traffic isn't any different from intercepting IPv4 traffic. Readily available sniffing tools such as tcpdump and Wireshark can decode IPv6 packets. In practice, however, some hurdles can arise. Any computer with IPv6 has built-in encryption called IPsec, so the frequency of use if it most probably increases with IPv6. IPsec is still not yet widely used. Neither are HTTPS encrypted connections. The FBI says it's paying close attention to these aspects of IPv6.