Ethtool allows you to modify your Ethernet adapter settings inside of Linux. Fun with ethtool article tells you how you can use it for various tasks. You can easily get driver information and statistics with command: ethtool -i eth0
Ever had to trace what physical network card was recorded in linux as ethX? Follow the blinking lights with ethtool is the easy way with command like this (Blink ethernet device led 0 for 15 seconds): ethtool -p eth0 15
Look there! Blinking lights at the back of your ethernet adaptor.
This tuned to very useful when I have worked with Linux servers that have very many Ethernet interfaces.
You can also use ethtool to change various Ethernet card settings including communication speed and autoneg options.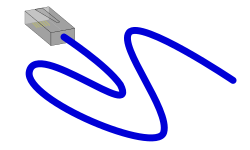 Who's using up all the bandwidth, and what are they doing? Use iftop to find out. The Sysadmin's Toolbox: iftop article tells that iftop is a relatively simple command-line tool to monitor your network traffic (there are many ancy Web-based graphs of your network traffic but there are many cases where using them would be overkill). Iftop is a very good troubleshooting tool (like top): when there's a problem, you can get instant real-time data about your system that updates as the situation progresses.