The Finnish game industry has been growing dramatically during the past couple of years.
An Overview of the $2.905 Billion Finnish Games Industry
article says that the 
Finnish Game Industry
 is growing at a 39.5 percent growth rate because of some amazing game developers (
SuperCell
, Rovio, Remedy, etc.). The most well-known Finnish game companies are at the moment Rovio with its Angry Birds, and Supercell with its Clash of Clans, but these superstar companies are just the tip of the iceberg. Take a look at
The Finnish Game Industry
slide set for details like this: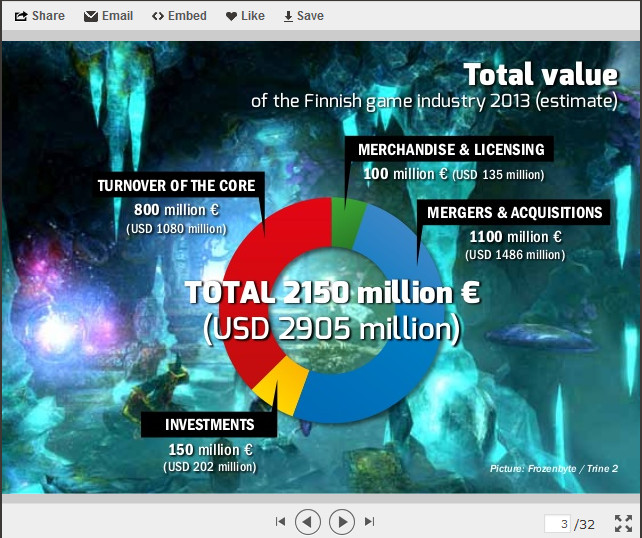 For comparison take a look at the situation few years back. Last year (2013) total value of the Finnish games industry (game development and services, corporate acquisition, tie-in merchandise, licence sales and investments) was estimated to be
two billion Euros
and
turnover was 800 million Euros
.
The Game Industry of Finland
report from Tekes says that in Q4 / 2012 Finnish game industry consists of approximately 150 companies. Significant part of the companies develop mobile games. The start-up scene is vibrant: 40% of the existing game companies have been established 2011–2012.
The Game Industry of Finland report presents some facts and figures about one of the most dynamic game development countries at the moment. Supercell was built from zero to $3 Billion in just 3 Years.