I needed to replace few burned 50W GU10 halogen bulbs with LEDs. A standard 50W halogen lamp outputs 400 lumens so I needed to find a reasonably LED bulb that gives around the same light output. I could live with slightly less, but not too much less.
I found suitable looking product AIRAM LED 4W GU10 350LM 2KPL 43-8924 from local Motonet shop. The 9,90 Euro package contains two LED lamps, so one bulb will end up costing slightly less than 5 Euros. That's very reasonable price for brand with some reputation. Airam is a Finnish company and I have heard good comments on their LED product earlier.
AIRAM LED 4W GU10 350LM 2KPL 43-8924 specifications are 4W power, 350 lumen light output, GU10 base, 3000K color temperature and 15000h lifetime. All those specifications looked suitable for me, so I bought the bulbs and brought them to home.
Here are some pictures on the material in the package: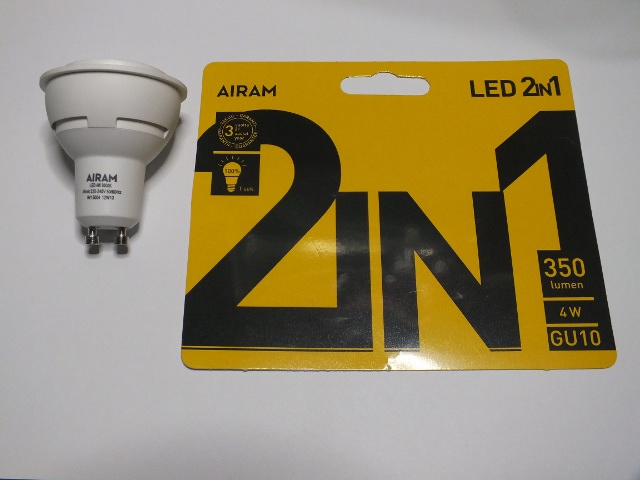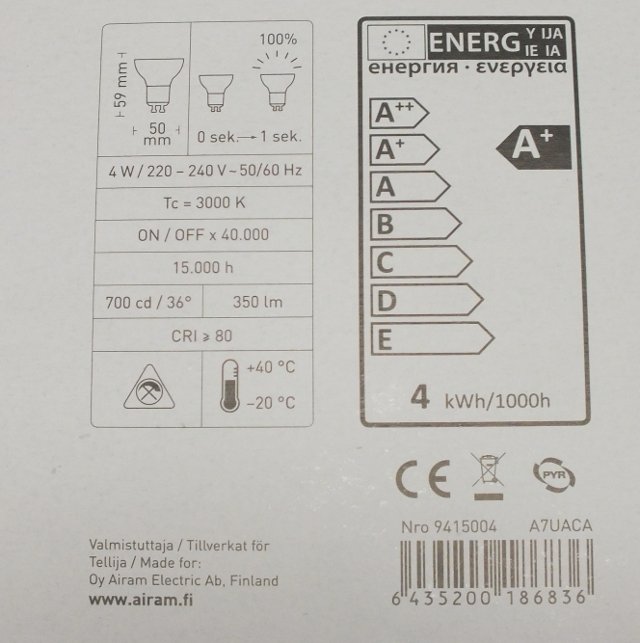 Here is close-up of the bulb details. The bulb case seems to be made of white plastic and aluminum heat sink painted white.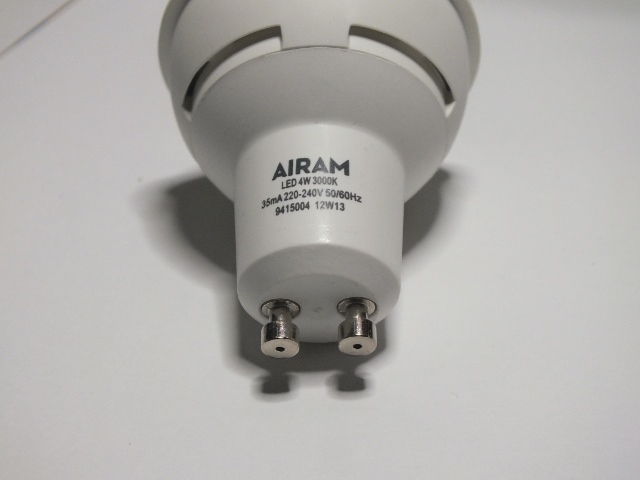 There are four 1W white LEDs in the bulb: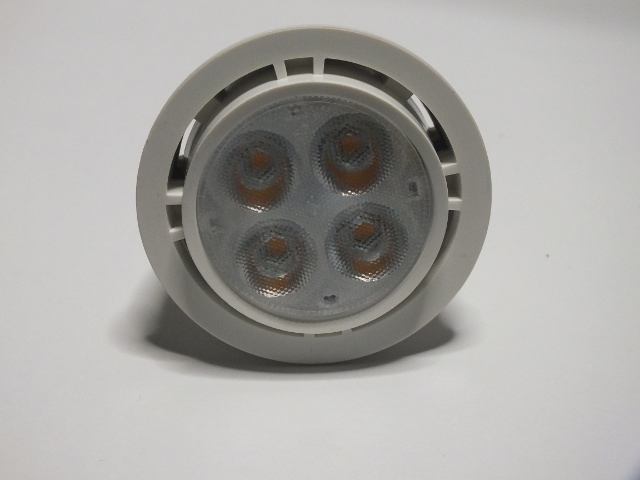 I installed the bulbs to use. Lumen output according to technical data is a little bit lower than 50W halogen (350 lumen vs 400) but the light felt as bright or even brighter than halogens: tighter beam focused where light is needed and different light temperature can affect.
I did some measurements with light meter to see the performance. The average light level on the room was around the same as it it was before. The light distribution was somewhat different, and when I turned to bulbs more towards my working table I got nice light there.
I did some crude measurements on the light beam brightness. First I compared the light output in from of the bulb: LED bulb was around 1.5 times brighter than 50W halogen when measured direct in front (1 meter distance). When going more to side it became less bright than halogen. -> tighter beam than the original bulb.  Tighter beam was good in my application, more light where I wanted it.
The LED bulb package did not tell anything if this could be dimmed. I did a quick testing. I could not get the bulb to dim well with normal light dimmer (trailing edge), the light started to flicker when I had just the LED connected to dimmer. I also tried configuration where I had 40W normal bulb in parallel with the LED bulb (to make the dimmer work better), but it did not seem to help. So it seems that this LED bulb is not designed to be dimmed with at least that dimmer.
To get more information I also tested dimming with reverse phase (leading edge) type dimmer I had built. In this test I found that the LED bulb dimmed with it nicely. Reverse phase type dimmer usually works best on LED bulbs, and it was the case also with this bulb. Reverse phase control works best with capacitive loads, which means most LED bulbs.
I was happy with AIRAM LED 4W GU10 350LM 2KPL 43-8924. They did well what they promised.