Happy Hacking Day is non-commercial free tech-event for people, communities and companies. it provides visibility for the topics and projects which prefers free software and open source options. Let's change the world a bit. Happy Hacking! The next event is held this week 8.-9.05.2015 in Helsinki, Finland.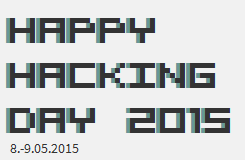 This time they have something that could be of interested for ESP8266 IoT hackers: ESP8266 IoT Workshop.
ESP8266 IoT Workshop promises to offers a great learning experience for the IoT core aspect: wireless sensor networking. Participants will learn to connect sensors to Internet, stream sensor data to a cloud service, view the data with a web browser or on a Android smartphone and to control sundry things from a browser. ESP Workshop is about ESP8266 microcontroller with an integrated Take your own ESP8266 module with you.

The program promises " we then install a web server on the module, and access the server from a web browser. Then we connect a temperature & humidity sensor (DHT21) to the module and learn how to view the sensor data from a smartphone and stream the data to a cloud service. And finally we connect a relay module to
the ESP8266".