The Arduino Ethernet Shield connects your Arduino to the internet. Just plug Arduino Ethernet Shield module onto your Arduino board, connect it to your network with an RJ45 cable and follow a few simple instructions to start controlling your world through the internet. The original Arduino Ethernet Shield is based on the Wiznet W5100 ethernet chip. The Wiznet W5100 provides a network (IP) stack capable of both TCP and UDP. Arduino communicates with both the W5100 and SD card using the SPI bus. Here is a video of Ethernet shield in use: Arduino + Ethernet Shield – Web controlled LED
Some time ago I bought Ethernet Shield V1.1 for Arduino. This product is also called Ethernet Shield. At high level does the same (connects Arduino to Internet/Ethernet) but is cheaper (which is good). Ethernet Shield V1.1 for Arduino is technically very different from original Arduino Ethernet Shield. This board does not work with the Ethernet Shield Driver supplied with Arduino IDE

This implementation is built using different chips that need different software.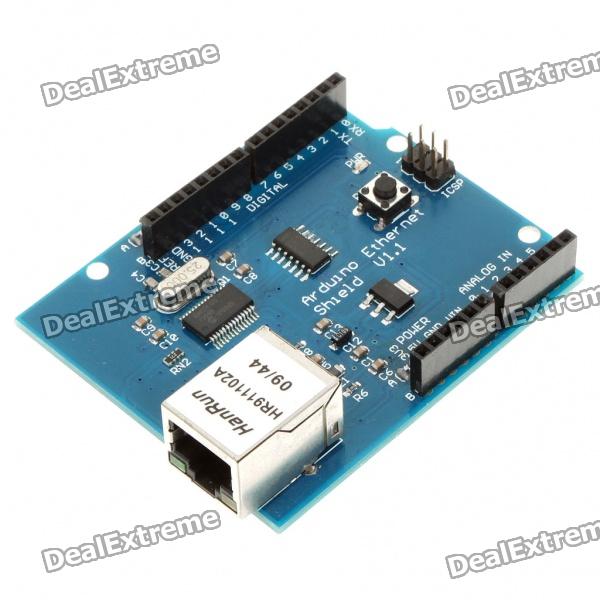 Ethernet Shield V1.1 for Arduino uses ENC28J60 SPI Ethernet controller and compatible HR911102A RJ45 socket. It is designed to be stackable by accepting prototype shield or any other boards with Arduino compatible interface. This board can be made with some work on Arduino IDE. Manually action is needed to download additional driver and put the driver in use. But this not too hard thing to do. This board works right out of the box with the sources that you can download at https://github.com/thiseldo/EtherShield. There is a web server application example to use Arduino as a distributed network sensor. There are plenty of examples to get going. It was pretty easy to build a test application that allows to control a LED connected to Arduino board through a web browser.
The only downside (it applies to original Arduino Ethernet Shield) is that the RJ-45 connector has so high profile that it is impossible to plug full size Arduino Shield like always useful Arduino Sensor Shield directly on top of the Ethernet shield. Some form of spacers (similar connectors as used in building Arduino Shields should do) are needed between the connectors on the Ethernet shield and the shield on top of this.