I wrote last week about EMF measurements. Here is more information on the DT-1180 2.3″ LCD Screen Electromagnetic Radiation Detector I used for electrical field measurements.
DT-1180 2.3″ LCD Screen Electromagnetic Radiation Detector is a meter designed for electric fields and RF field measurements. DT-1180 2.3″ LCD Screen Electromagnetic Radiation Detector measures low frequency electrical fields (5Hz~400KHz) in V/m and high frequency RF fields (30MHz~2000MHz) uW/cm2. The measurement accuracy is said to be 1V/m and 1uW/cm2.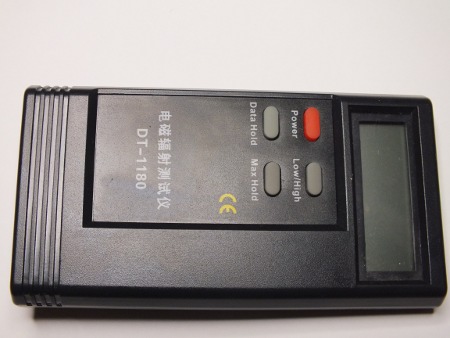 This was not the cheapest field meter around, but this meter was different from many other in that it displays the results in some unit that makes sense and are comparable to something. Many other cheaper meters seemed to have a digital display that gives just some some number without unit. Measurements that give have a sensible unit in them are much more useful.
The numbers that the electrical field measurement gives seem to make sense. For electrical fields the measurements below high voltage line the meter gives results that would be expected at that location (I got 1439 V/m, according to literature a typical values to expect would be 1000-2000 V/m). Also some other measurement on home and office environment seemed to give results comparable to values given on literature.
For RF fields I found that the meter reacted to mobile phone signal and a walkie-talkie radio transmitting nearby. I have not been able to do comparison to some other meter to get idea how accurate the results are at different frequencies.
Next let's take a look inside the meter: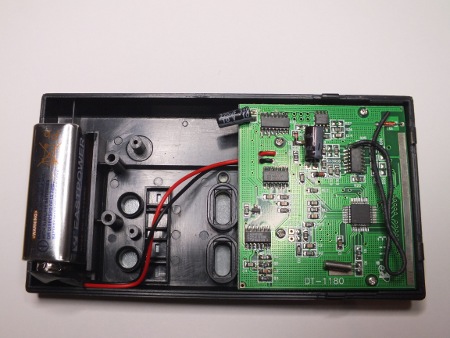 This looks pretty normal small electronics measurement device. It seems that the case has been designed for some other devices originally, because the case has extra holes for buttons that are not used on this device.
Here is one closer look at the circuit board.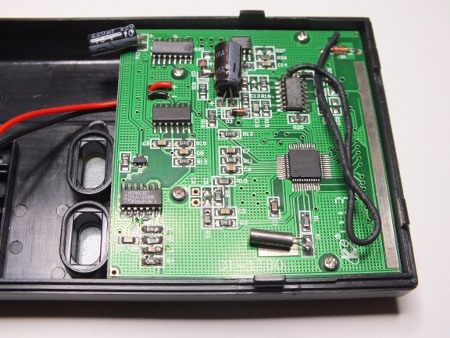 I thinks that the black insulated wire you see on the right is the sensor used for detecting electrical field. electric field meter can be build from two sensor plates (I quess here a wire and circuit board ground plane), a rectifier circuit and a digital multimeter circuit after it.
Right from it there is silver line on the circuit board, and it looks like it could be the antenna for receiving RF signals. RF field meter consists of suitable wide-band antenna, a RF signal rectifier and digital multimeter circuitry.
If you want to measure the electric field around objects, this meter will do it. It measure Volts/Meter. If you have a high electric field, this meter will tell you. The meter will also give you information on RF field strength.