Video isolation transformers are primarily used in CCTV application in fields of security, manufacturing, avionics and display. The video isolation transformer is an extremely broad bandpass 1:1 isolation transformer. Its hum isolation is very good and it can sustain very high noise voltages without degradation. Isolation decreases with increasing noise frequency.
Video signals can transformer isolated in many applications. Most video signal transport paths are AC coupled, so this kind of signal can pass through a suitable transformer. Video isolation transformers are used CCTV applications where they solve ground loop problems or protect system against ground potential differences between different locations.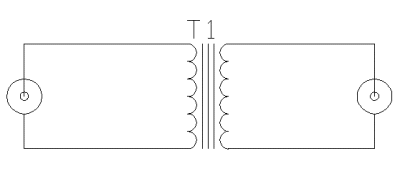 The design of a high bandwidth transformer which can go to very low and very frequencies is very hard. Video signal can have significant signal components from 50 Hz up to 6 MHz. Unfortunately in practical transformers you have to always make some compromises on low and high frequency responses (highest components of composite video can be attenuated even few dB). Signal amplitude at low frequencies is limited by core saturation and coil inductance. High frequency response is limited by leakage inductance and winding capacitance. Many video isolation transformers are only designed for CCTV other not so demanding applications application, where more signal distortion is accepted than in broadcast industry.
Lundahl LL1575 is a high bandwidth video isolation transformer designed for CCTV (closed circuit television) applications. I have used that transformer successfull to build video video isolators. That transformer has 20 Hz – 11 MHz +0 /- 3 dB frequency response (possible with special bifilar winding technique and special core construction). That transformer gives 2 kV rms isolation between primary and secondary windings.
The LL1575 datasheet recommends that if DC current is present, the transformer must be decoupled (with large capacitor). Because in many video circuits there can some DC present especially in video outputs, I thought that it would be a good idea to include suitable DC blocking capacitor to the circuit input side (on the left, connected to video signal source output). A suitable capacitor value should be 1000 uF or higher (practically demands using electrolytic capacitor) and have good high frequency characteristics (electrolytic capacitors are not good at this, ceramic etc.. would be much better here). The capacitor I used was built from 4700 uF electrolytic capacitor (gives capacitance) wired in parallel with 100 nF ceramic capacitor (handles the high frequencies where electrolytic capacitor is not good at). 25V or higher voltage rating is suitable for the application (you normally see 1Vpp video signal plus maybe few volts DC).

The circuit is best constructed to a small plastic box with suitable connectors. For professional applications I recommend to use BNC connectors. If all your equipment use RCA for video signal, then use those connectors if they are easier for you. Plastic box is easiest for the construction because in this way it is easy to guarantee good electrical isolation between input and output side connectors (in metal box needed isolation could be hard to do reliably).
Here ia picture of the video isolator I have built: