A normal way to troubleshoot ground loops problems in audio systems is to listen to the audio signal at the mixer with headphones. If the buzz exists at the mixer then do the following: One by one, disconnect the inputs and outputs to and from the mixer and note if the buzz decreases. This same connecting and disconnecting wires method can be used on other components of audio and video systems.
Disconnecting and then reconnecting the cables take a lot of work. This caused that ground loops are frustrating to troubleshoot in large systems where there are lots of cables.
I have found that a clamp type multimeter can help to troubleshoot ground loop problems. The ground loop noise is normally caused by the extra noise current flowing on the shields and ground wires of the cables. That noise current is normally mains voltage frequency (50 Hz / 60Hz) or it's harmonics. Normally the signal cables should not carry any (or very little) mains frequency current in them, so by measuring this kind of current flowing on the cable it is possible to determine where the noise current flows. A clamp type multimeter is a very good tool for doing the measurements, because you can easily measure the noise current flowing on the cable with it without need to disconnect the cable or disturb the signal inside the cable. This means that you can troubleshoot a live system with clamp multimeter in AC range.
The wires which have considerable current on them are part of ground loop. The wires with most current on them are pushing most noise current to the whole system. So first locate the wires that have highest or otherwise very high current flowing in them. Then you can try to disconnect them and test if that stops the noise. Usually there is one or few cables that cause all or most ground loop current on the system. That noise current gets typically flowing around in different cables on the system, causing more or less noise problem here and there around the system. Then the real noise source or sources are disconnected, suddenly the whole system becomes noise free. When you have found out the problem source then just add suitable cure to that connection (typically signal isolation transformer or similar device).
Clamp on multimeter allows you to easily measure the current on cables. Just clamp the meter over the audio cable and get the AC current reading. If you want you can clamp several audio/video cables inside the clamp and get the reading of the sum of their noise currents (remember that there is possibility that if there are two cables with exactly same noise signal but different direction you get zero reading). Clamping the meter around a number of signal cables speeds up the troubleshooting process where there are lots of cables, for example near audio mixer. If the group of cables you measured with clamp meter shows a considerable noise current, then measure the cables individually to see which one has the most current flowing. If there was no considerable current on the cable group, continue measuring next cable group. Besides audio cables you can do the measurement with video cables, mains power cables and other signal cables.
There are few things to consider the selection of the clamp type multimeter. First the multimeter needs to measure the AC currents with the clamp. You don't need the DC current measuring capability, although getting a clamp meter with also DC capability can make the meter more useful for other applications (usually the DC capable clamp meters are more expensive than AC only). The second thing to consider is the resolution of the meter. The ground loop currents you normally want to measure are in few mA to 1A range (in some severe case the current can be considerably more). It is preferred to have a clamp meter that can measure currents down to few mA. Unfortunately many meters with this good resolution are usually quite expensive.
Usually the cheap clamp type multimeters have 10 mA or 100 mA resolution, meaning that they can't detect anything lower than 10 mA or 100 mA. A multimeter with 100 mA resolution is practically useless in ground loop problem solving, because over 100 mA ground loop current are not seen often. A multimeter with 10 mA resolution is already useful to troubleshoot ground loop problems, but it will not reveal you all the details in most cases. Usually 100 mA-1A current on cable means very serious noise problem on audio and video systems, currents in 10-100 mA range cause some noise problems. Usually when the current is well below 10 mA there are no considerable noise problems.
I have used a clamp meter with 10 mA successfully for troubleshooting ground loop problems, but when used that I wished I had a meter that can show even lower currents down to 1 mA or less. So if you are buying a clamp meter, consider trying to get as good resolution as possible with the money you are willing to spend it. When looking for multimeter for this application the actual measuring accuracy (measurement error percents promised) is not important, we are merely making checks if there is current flowing or not and approximately how much (just some approximation around how much current is enough).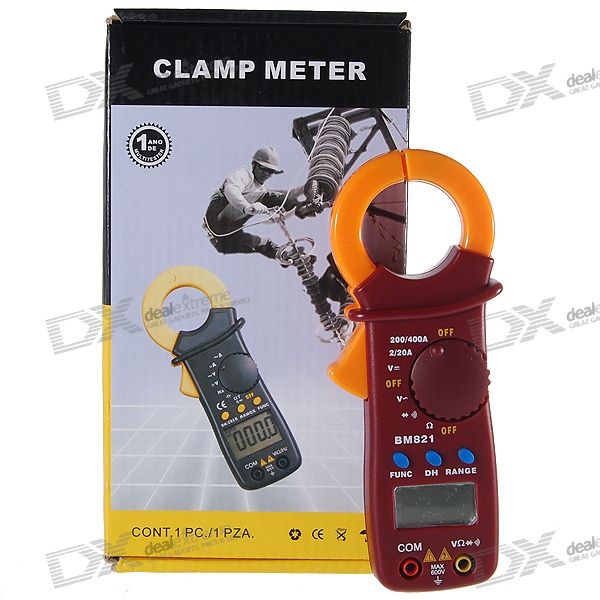 This picture shows the cheapest I know well working clamp multimeter that can measure currents AC down to few mA currents. The meter has 1 mA resolution at 2A measurement range (the display started showing current higher than 2 mA). You can get this 1.3″ LCD Clamp Style Digital Multimeter with Pouch from Dealextreme for around 20 US dollars.