Nowadays there is ENERGY STAR rating for solid state lamps in USA. Solid-state lighting (SSL) products that meet efficiency and performance criteria set by the U.S. Department of Energy can earn the ENERGY STAR. For more details refer to the ENERGY STAR Requirements for SSL Luminaires. In December 2009, DOE published ENERGY STAR criteria for integral LED lamps, which go into effect in August 2010.

Energy efficiency is a talked about a lot. The Department of Energy is offering a prize of as much as $10 million to create the first solid-state replacement for the 60W incandescent light bulb, so you know it's a problem. Solving the LED-driver challenge for light-bulb replacement article offers some suggestions for how to address high-efficiency, power-factor, and phase-dimming-compatibility requirements.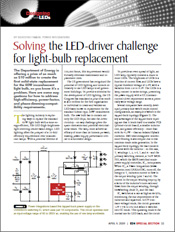 When designing LED lamps you need to take into account the heat generated by the LED. Most of the electricity that goes to LED still gets converted to head instead of light, and you need to get rid of it in some way. Light-emitting diodes (LEDs) don't like heat. Heat shortens their lifetimes. With LED power levels rising, engineers need to find new ways to dissipate heat or use the old ways better. Dealing with LED Heat discusses on the issues hot to get rid of the heat generated by high power LED. Incandescent bulbs eliminate their heat through radiation, whereas with LEDs it's more of a mechanical issue.