For good macro photography you need to have good light. Getting nice light nicely to location near camera lens can be sometimes hard. Some photographers use special Macro Photo Studio. Some macro photographers use two flashes mounted on opposite sides of the lens. Some prefer to use ring lights. After some experimenting I thought that light ring would be an useful addition for my digital camera.
There are ready made right lights and also plans to build one. After some thinking I decided that I would get good results most easily by taking some inexpensive ring type LED lamp and modify it for my needs. After some searching I found T10 15-LED White Light Car Angle Eye (60mm Diameter) sold by Dealextreme ($4.03). It looked light pretty suitable. So I ordered it. This product is designed with 12V DC car power source (typically in 12-13.5V range). I connected 12V transformer to this light and it worked well.

After some experimenting I found that the wire from 12V transformer is annoying. I would like to make this light mobile with some small power source. But 12V small portable power source is not too common. 12V made from AA or AAA is quite big and heavy. Smaller button batteries or tiny 12V batteries had too low capacity. I would prefer to use normal 9V battery. I tried using 9V battery, but there was very little light output compared to 12V power source. So something needs to be done.
I did some measuring and found out that this device takes around 80 mA of current from 12V DC power source. The circuit inside this light consists of five LED sets. Each LED set consist of three while LEDs wires in series and in addition there is around 150 ohms resistor for current limiting (resistors did not have markings in them, the value was measured with multimeter). With 12V power the resistor has around 3V voltage drop and LEDs about 9V. For 9V operation there was no voltage drop left for any current limiting resistor or circuit.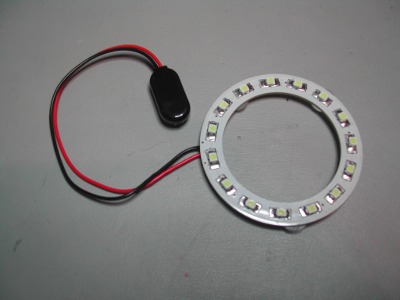 Could the LEDs (three in series) could work directly from 9V battery without any current limiting resistors? Generally it is not a good idea to run LEDs without current current limiting series resistor, but some small LED lamps use white LEDs that are directly powered from 3V battery.
The LEDs used in this circuit I was modifying had fortunately such specifications that they worked nicely (three in series) from 9V battery power source without any current limiting resistor. It took some experiemting and measuring to be sure that this would be a safe way to go. The solution to operate the circuit from 9V battery was to short circuit all five resistors on the back side of the circuit board.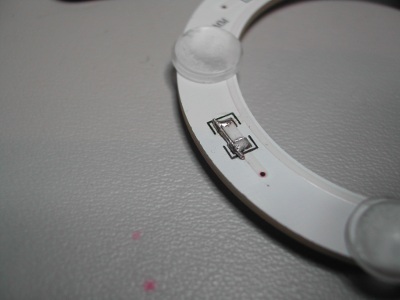 With this modification the circuit took around 30 mA current from 9V battery and gave about half of the light as unmodified circuit from 12V power source. I just added 9V battery connector and my macro ring light electronics was ready.The light output was enough for it to be an useful digital camera macro photography light.
Here is a picture what kind of light you get from this (note that there is some blue lens flare on the picture):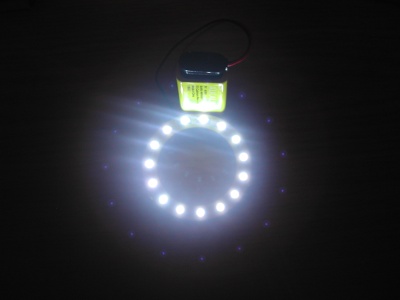 All I need to figure out now how to keep this nicely in place in front of camera around the lens. The small rubber like pads I glued to this light are not the most reliable way to attach it to camera objective. I am still trying out different options for that. Also a battery holder for that 9V battery would be nice to include to the holder.
Other ideas and information related to macro photography can be found at the following pages: MACRO PHOTOGRAPHY, How To: DIY $10 Macro Photo Studio and Macro Photography: how to take close-up pictures of small things. It is also worth to read Shedding Light on Machine Vision.