You might know my Time Domain Reflectometer (TDR) signal source circuit published on ePanorama.net many years ago. It has worked well for me many times.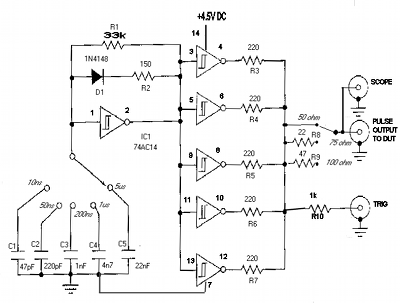 Some years ago I made a modification to my own TDR unit. This simple modification allows me to use the same box also as a signal source with a wide frequency range (kHz to almost 30 MHz) and controllable output impedance. This kind of square wave signal source is useful for all kinds of testing.
The TDR circuit shown above can be modified to a square wave signal source by modifying the oscillator part of the circuit (R1, R2, D1, one gate of IC1 and capacitor C1..C5). This oscillator is pretty normal square wave oscillator circuit with just D1 and R2 as extra. So if you leave out D1 from the circuit you get square wave signals. If the D1 is just removed the oscillator outputs square wave at frequency range from few kHz to few hundred kHz (frequency controlled by R1 and capacitor).  If you replace the D1 with a short circuit you get higher frequency from hundred kHz to almost 30 MHz (frequency controlled by R1+R2 in parallel and the capacitor). If you leave the D1 as it is, the circuit works as TDR signal source.
The modification needed to add all this new functionality and still keep old things working is to add one three position changeover switch (onA-off-onB) to the circuit. Just wire it in such way that you get all the D1 as it is (=TDR), D1 open circuit (=low frequency) and D1 short circuit (=high frequency) settings.