The idea if replacing fluorescent light bulbs with LEDs seems to become popular. There are different kind of products made for that purpose. LED bulbs utilizes large arrays of high power LEDs to provide up to provide light. They are at best an economical way to replace commonly used fluorescent tubes.
Since introducing LED based fluorescent tube replacements more than a year ago, I have read that a plenty of low quality LED tubes hit the market. Unfortunately these are cheaply made at best and dangerous at worse.
Fluorescent fixtures are designed to support a specific types and size of fluorescent tube. Make sure that the LED replacement tube lights are the correct size for the fixture. Also, always remember that when servicing a fluorescent fixture or lamp for any reason, electrical power to the entire fixture should be disconnected.
A fluorescent tube is incorporated into a fluorescent lighting system which consists of two or three main components: (1) the fluorescent lamp (fluorescent bulb or tube), (2) the ballast, and (3) the starter system. When the fluorescent lamp is replaces with LED bulb usually some modifications are needed to the lamp wiring to make everythign work. In the simplest case that modification could be just leaving out the starter. At some other cases that could mean you need to rewire some part of the lamp wiring (which makes using normal bulb not possible anymore and can at worst case cause hazards).
LED Tube Light Installation Made Simple article tells that if the fixture has an electronic ballast, you only need to remove that and then wire the power directly to the lamp holders, completing one circuit for each bulb. If you have an older fixture with a magnetic ballast and starter, you usually will have to remove or open the starter and remove or short the magnetic ballast. There are also some LED tubes that can live with a traditional magnetic balast installed as it is normally (just remove the starter), but the downside of this design is lower efficiency (there are losses caused by the magnetic balast).
Led T8 Fluorescent tube lighting Circuit Connect Diagram shows the idea after the modification: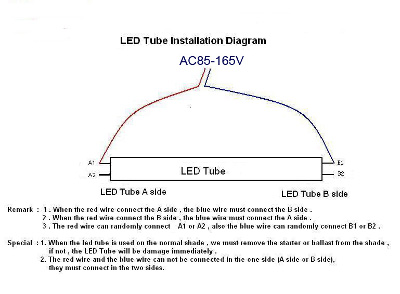 The two pins at each end of the LED bulb are connected together. Simply apply one side of the 120 Volts AC to one end of the Tube (either pin) and the other side of the 120Volts AC to the other end. The Ballast and the Starter must be Bypassed/Removed. This is critical that the ballast & starter is bypassed.
LED Vs. Fluorescent Lighting article tells that LED lighting and fluorescent lighting are just two of the types of lighting technologies available. Both have their own sets of advantages and disadvantages. One key area that they differ in is the area of energy consumption and lifespan. Both types of lighting are energy efficient when compared to traditional incandescent bulbs. However, LED technology costs more than CFL and fluorescent lighting. LED lighting (when well designed and built) can last upwards of 60,000 hours before needing to be replaced. Fluorescent lighting, particularly CFL bulbs, can last around 10,000 hours before needing to be replaced. LED light bulbs use about half the wattage of fluorescent lighting.
LED 'Fluorescent' Tubes article tells that a bad ballast can ruin lights and cause premature replacement, besides using the ballast to up the voltage just to drop it again seems ineffiecient. But this allows a transition to LED technology without a change in infrastructure. I think this this could be a very important step, considering the amount of fluorescent lights being consumed nowadays. Power consumption is about 50% of fluorescent bulbs and your replacement period becomes 10+ years so there are huge long-term savings. The main problem with this type of product is the huge upfront cost. We all know that 10 years from now (maybe much sooner on this fast developing field) there will be a much better alternative to this product so it is hard to justify the long-term commitment. Most cheap LED fluorescent tubes available nowadays can't be used as a fluorescent tube replacement since they are dark, they give less output than the original fluorescent tube. There are very few LED tubes which are actually as bright or brighter than conventional fluorescent tubes. The cheap LED lighting (around US$40 to US$60) typically use cheap good old 5mm LEDs and most of them have heat sink problems. This will lead to over heating of LED bare chips and bullet shaped resin so they will not last very long. At the end of the day LED Fluorescent tubes should look like fluorescent tubes and alot of what I have seen offered within the market looks like a tube full of LED's.