Tyco Electronics has an interesting application note named Relay Contact Life. The Relay Contact Life document outlines the basics of relay contact selecting, properties of different contact material and strategies for protecting relay contacts.
There is no such thing as a universal relay contact. Relay contacts are available in a variety of metals and alloys, sizes and styles for a good reason. The relay user should select contact materials, ratings, and styles to meet, as precisely as possible, the requirements of a particular application. Failure to do so can result in contact problems and even early contact failure.
In many applications, the relay contacts may be subjected to punishing current surges which can drastically reduce their life if not properly selected for the application. Measure the current inrush of the circuit to be switched before specifying the relay.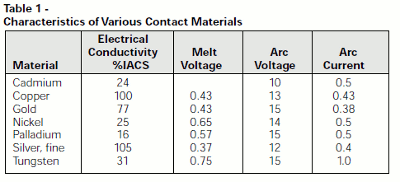 The electrical life expectancy of general purpose and power relays is generally rated to be 100,000 operations minimum, while mechanical life expectancy may be many times higher. Contact life is terminated when the contacts stick or weld, or when excessive material is lost from one or both contacts and a good electrical make is not possible. The reason electrical life is rated so low compared with mechanical life is because contact life is application dependent. When a set of contacts switches a load of less than rated value, contact life may be significantly greater.
When you need to switch the signal very often consider the possibility to use Solid-State Relay. CP Clare application note Advantages of Solid-State Relays Over Electro-Mechanical Relays tells that electronic designs can take advantage of the improved performance of solid-state relays (SSRs) relative to that of electro-mechanical relays (EMRs) that perform the same circuit function. SSRs can usually be specified with confidence at actual load voltages and currents. Contact erosion is not a concern because there are no contacts. The absence of contacts and moving parts means that SSRs are not subject to arcing and do not wear out. SSRs have many good properties but they have also their disavantages, so they do not fit to all applications.