The European Commission supports industry's commitment to provide a common charger for mobile telephones. Commission welcomes new EU standards for common mobile phone charger: European Standardisation Bodies CEN-CENELEC and ETSI have now made available the harmonised standards. The industry commits to provide chargers compatibility on the basis of the Micro-USB connector. The technical number for this micro-USB charging standard is EN 62684.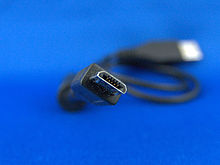 The European Commission expects the first common chargers and mobile phones compatible with the new standards to reach the European market in the first months of 2011. Sony-Ericsson, Nokia, Apple and all the others will now have about a year until the 1st of January 2012 to make sure that the majority of all phones will support the new standard.
Technical requirements: Output Voltage Range: 5V +/-0.25V from no load to maximum output current measured at the Micro-B plug of the captive cable or on Standard-A receptacle in case of detachable cable. Output Current Range at 5V +/-0.25V voltage range is 500 mA to 1500 mA (maximum 1.5A load at voltages below 4.75V). Output Voltage Ripple 80 mVp-p.
EPS shall short the D+ and D- lines with a resistance not greater than 200 ohms (per USB Battery Charging Specification).
The charger converts 90V-264VAC at 50-60Hz into 5VDC, 500-1500mA. The galvanic isolation required for user safety also isolates the charger output from earth ground, although there still exists capacitive coupling between the primary and secondary through the transformer. Output of the power adapter shall meet LPS, SELV, non-hazardous energy requirements. Maximum Current under Single Fault Condition shall not exceed 3A. The power adapter shall meet Class II requirements with max leakage current not exceeding 90 micro-Amps.

The power output to the mobile phone is isolated "floating" type. It should be noted that the common-mode noise exists independent of a well-regulated DC output, as the positive and negative DC output lines, the USB cable, and the Mobile Terminal are all pushed "up" and "down" together.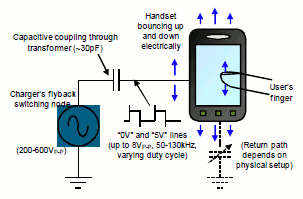 This is nothing new, just now well documented what happens. This same happens with practically any today's mobile phone charged based on switch mode power supply technology. Mobile phones need to be designed so that they can live with it.
There is one Technical requirement that sounds quite hard at first but makes sense for end user point of view: The charger shall not be damaged as a result of any electrical overload, over-temperature condition or any short circuit condition.
The common charger will make life easier for consumers, reduce waste and benefit businesses. Please note that earlier there has already been a voluntary agreement on cell phone chargers in EU using the same connector and China implements standard USB charger for all mobile phones.