You wouldn't write your username and passwords on a postcard and mail it for the world to see, so why are you doing it online? Every time you log in to any service that uses a plain HTTP connection that's essentially what you're doing.
There is a better way, the secure version of HTTP—HTTPS. HTTPS has been around nearly as long as the Web, but it's primarily used by sites that handle money. HTTPS is the combination of HTTP and TLS. Transport Layer Security (TLS) and its predecessor, Secure Sockets Layer (SSL), are cryptographic protocols that provide communications security over the Internet.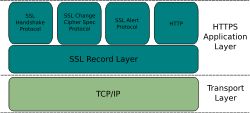 Web security got a shot in the arm last year when the FireSheep network sniffing tool made it easy for anyone to capture your current session's log-in cookie insecure networks. That prompted a number of large sites to begin offering encrypted versions of their services via HTTPS connections. So the Web is clearly moving toward more HTTPS connections; why not just make everything HTTPS?
HTTPS is more secure, so why isn't the Web using it? gives some interesting background on HTTPS. There are some practical issues most Web developers are probably aware of.
The real problem is that with HTTPS you lose the ability to cache. For sites that don't have any reason to encrypt anything (you never log in and just see public information) the overhead and loss of caching that comes with HTTPS just doesn't make sense. The most content on this site for example don't have any reason to encrypt anything.
HTTPS SSL initial key exchange also adds to the latency, so HTTPS-only Web would, with today's technology, be slower. The fact that more and more websites are adding support of HTTPS shows that users do value security over speed, so long as the speed difference is minimal.
The cost of operations for HTTPS site is higher than normal HTTP: you need certificated that cost money and more server resource. There is cost of secure certificates, but obviously that's not as much of an issue with large Web services that have millions of dollars. The certificate cost can be a showstopper for some smaller low budget sites.
Perhaps the main reason most of us are not using HTTPS to serve our websites is simply that it doesn't work well with virtual hosts. There is a way to make virtual hosting and HTTPS work together (the TLS Extensions protocol Server Name Indication (SNI)) but so far, it's only partially implemented.
In the end there is no real technical reason the whole Web couldn't use HTTPS. There are practical reasons why it isn't just yet happening today.