Proper grounding is an essential component for safely and reliably operating electrical systems. Improper grounding methodology has the potential to bring disastrous results from both an operational as well as a safety standpoint. There are many different categories and types of grounding principles.
Proper Grounding of Instrument and Control Systems in Hazardous Locations paper's primary focus is to demonstrate proper grounding techniques for low voltage Instrument and Control Systems (IACS) that have been proven safe and reliable when employed in process control facilities. The grounding practices discussed are intended instrument and control systems that operate at 50 VDC or less.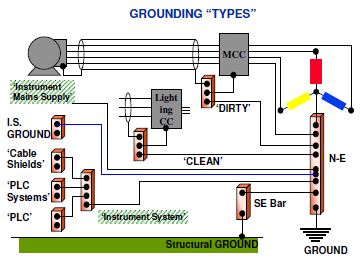 It is commonly accepted that grounds in the process industry can be broadly classified as either dirty or clean. Dirty grounds inside the facility are typically those 120VAC, 220VAC, 480VAC power grounds that are associated with high current level switching. Examples of clean grounds are the DC grounds, usually 24VDC, that reference the PLC, DCS or metering/control system in the plant.
Structural grounds physically and electrically tie the facility together. In the typical plant or house, the 0V ground reference is most often a heavy gauge copper wire embedded around the base of the building and tied into ground rods at the corners as well as into the AC ground feeds at critical junctures. In a ship, it is the hull of the ship; on an offshore oil/gas platform, it is the structural steel of the platform.
It is necessary to adopt a consistent approach throughout your systems, employing star point grounding and proper grounding bed techniques. Recommended codes of practice are drafted after considerable study for the safety (both you and your plant).