Humming bars in CCTV system monitor image can be caused by many different factors and tracing the issue can be a pain. Video Ground Loop Interference for CCTV article at 2M CCTV Security & Surveillance Blog gives some tips how to solve ground loop problems on CCTV systems.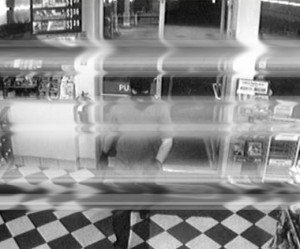 One cause is running your cable over a high power source, so run camera wires away from power lines. Make sure to run camera wires away from power lines (a minimum of 12 inches / 30 centimeters).
Also 24vac power transformer connections can cause similar problems. The type of AC power transformers you use to power your cameras can contribute to Ground Loop problems. A ground can be introduced to your camera "Capacitively" through the power transformer windings depending on the type and construction technique used to build the AC transformer. If you get problems an old trick is to reverse the wire on the 24V AC power supply to get the bad signal to go away. Not that this reversing trick is only for 24V AC system when you know what you are doing; do not try to reverse wires on 12V DC powered systems or you can damage your power supply and/or your camera.
Another issue with ground loops are metal buildings. If you mount cameras to the side of a metal building, remember that the entire building is one large conductor. You should never connect both ends of a video cable to local grounds. To avoid grounding on camera end, some form of electrical insulation between the building steel and camera is a good idea. Video Ground Loop Interference for CCTV recommends to put a piece of wood between the camera and the wall and that will fix the interference caused by video ground loops.
If coaxial cable shields are connected together anywhere in the system, separate them if possible. Similarly remove all but one ground connection on each coaxial cable if possible. The ground is usually at the monitor end of the coaxial cable because the monitor equipment plugs into the main power supply which is grounded.
There are video ground loop isolators (or "isolation transformers") that can help to solve ground loop problems. My Ground loop problems in video lines article gives more details on them and links to video isolator products. For DIY solutions read my Build video isolator and Build humbugging transformer blog postings.