John Huntington's Blog has covered a lot of holiday light displays over the years. Brooklyn's Holiday Light Spectacular is the newest one covered on the blog. It tells about Holiday Light Spectacular display with nice pictures, and also gives details on technology behind the display.
If you want to do your own holiday light display then here are some links to interesting project ideas from around Internet: Control your holiday lights with a magic wand circuit allows you to turn on your holiday bulbs with a wave of the magic wand. DIY Christmas Light Suit project uses LabVIEW to perform sound analysis of a playing music and uses LabVIEW Interface for Arduino (LIFA) to drive various Christmas light strings based on the power level at various frequency ranges. Smart Christmas Tree Lights with JenNet-IP video plays with the idea that "What if every Christmas tree light had an Internet address?". Don't forget my older Christmas Lights blog postings.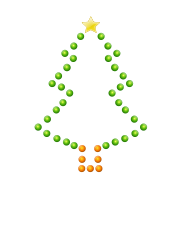 Light shows are nice to watch, but the technology used in them be can dangerous. Blink-182′s Mark Hoppus' Retina Damaged by a Show Laser posting tells about the potential dangers of light displays that involve powerful lasers. In video Mark Hoppus Presents: The World's Most Powerful Touring Laser Blink-182's bassist and singer Mark Hoppus talks about how he suffered retinal damage during a show in Milwaukee. In the video, he does a pretty good job of explaining how the laser show process works in terms of protecting the audience and what went wrong in performance. That show used a very powerful 26W Lightwave Lightwave Prism Series laser show equipment (you have read right, that's watts, NOT milliwatts you normally see in most laser specifications).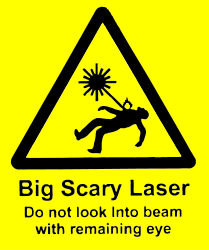 Remember that this kind of laser damage to eye is usually permanent. Primary personal hazards of high-power laser exposure are skin burns, blind spots when the laser strikes the retina, and the worst case total blindness. Lasers have been coming back into vogue in recent years on touring concerts, so be careful if you happen to be near them or operate them. Remember Laser Safety. There is also a a growing concern over the increased potential risk of eye damage from high power LEDs as well because intense blue light can cause damage to the retina. Do not stare at lasers or very high brightness LEDs, because doing so may cause permanent damage to your eyes. Remember that lasers can also damage cameras and camcorders, and even video projector chips (DLP).