Digi-Key Corporation and Aspen Labs launched around one month ago one-of-a-kind online 'Scheme-it' tool for drawing schematics. Scheme-it is a new on-line design tool that allows engineers, students, and enthusiasts to quickly create and share electronic schematics from directly within their web browser. "Digi-Key is excited to launch Scheme-it, the industry's only fully-online schematic tool," said Tony Harris, chief marketing officer, Digi-Key Corporation.
Try the software at http://www.digikey.com/schemeit. This is an interesting tool and I have just started to learn it. To experience an instructional video tutorial featuring Scheme-it go to http://www.youtube.com/watch?v=CVaWkhrEo4s.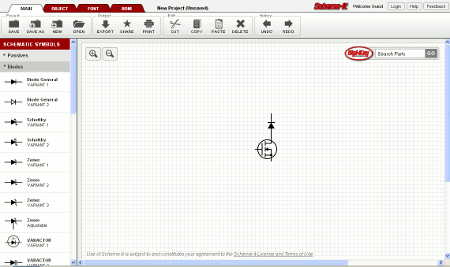 PS. If you are interested in circuit sharing check also CircuitBee. It has good circuit diagram sharing options but you need to use a separate schematic software to draw the circuits (software you need to install to your PC).