Many laptops are pretty well known for having terrible audio interfaces. There are usually noise and grounding issues. A recent post Yet Another Dell Laptop Audio Grounding Problem blog posting documents a well known and horrendous audio problem found on many Dell laptops.
I have faced problems with Dell laptop ground loops. And I have also faced similar noise problems also on other laptops as well (I have connected many laptops to live audio systems over years) . Other people have reported problems like this on Dell, Toshiba, IBM and HP.
Starting from Dell laptops. I did some analysis on one DELL INSPIRON 8200 laptop that used 3 pin power connector on the laptop. (I think the findings would also apply to round power connector as well but I have not verified that)
First I measured the resistance between laptop metal parts and mains lead ground (I measured that when laptop was unplugged from mains). I got reading 1 ohms resistance (the lowest reading on the multimeter I had), which means that the ground is pretty well connected to laptop case.
The strange thing happened when I had the laptop running: I measured a some DC voltage between mains ground and computer case. That DC voltage on computer case ground varied from 95 mV to around 200 mV depending on the what computer did.
I think that this DC voltage is caused by the resistive losses on the low voltage wiring from power supply to laptop (there can be more than 4 amperes of current so even a small resistance from one meter or so cable can cause noticeable voltage loss). The DC voltage loss gets to the computer case because it seems that the – side of the incoming power cable is connected to mains ground on power supply and on computer case ground on laptop side. This is a classical ground loop problem case where same wire carries both load current and ground to equipment.

This up to 200 mV of potential can cause noise problems, because it is not all pure pure DC, there are also quite a bit of high frequency switch mode power in it as well (sounded quite noisy when I connected headphones between ground and laptop case ground).
That 200 mV potential difference can also cause noticeable currents on the cable shields: I measured a DC current that varies from 130 mA to 400 mA on cable shield (measured with clamp multimeter) when I connected a cable from the PC to grounded equipment plugged to same mains outlet. That's quite bit of current on cable shield and not very good.
I think that the grounded low voltage side is pretty common on laptop power supplied. At least is is common for the laptops where you have had ground loop issues. Web search showed that problems like this have been reported on Dell, Toshiba and IBM.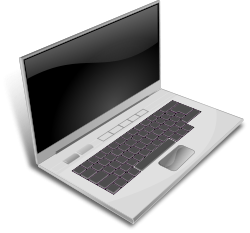 Then how to troubleshoot and solve computer ground loop noise problems:
Usually the laptop audio interfaces work pretty acceptably well (although there are also exceptions to this) when laptop runs with batteries. Usually the problems start when you plug in the mains adapter. Usually if the ground of the power adapter is connected a lot of noise comes out. Unplug the power adapter from the laptop or mains outler and the noise is gone. This is usually a classical ground loop problem.
In my experience in those cases, using an audio line isolation transformer or a passive DI unit (with ground lift) between the laptop and grounded audio system (for example PA system sound mixing console) can helps. Any well isolated DI works most of the time.
Usually a good fix for ground loop problems is to make sure all equipment are plugged to the same electrical outlet or same extension cord. This keeps normally mains frequency humming at very low level. In this case with this Dell laptop, plugging the laptop and audio system to same extension cord will get rid of possible mains frequency humming you often get when equipment are plugged to different outlets. Unfortunately in this case plugging all equipment to same extension cord does not help at all against those DC ground loop currents and high frequency noise generated by this laptop power supply.
Some sources have recommended disconnecting the laptop power supply ground. An unearthed power supply may work to solve the ground loop issued, but research first as the earth is there for a reason! I would not recommend using a PSU without a ground connection. That would cause a whole different problems: safety risk and danger of damaging computer or audio mixer. If you want to disconnect laptop power supply ground, the only safe way to do that is to power the laptop PSU through safety isolation transformer.
One option recommended is to buy a new PSU that is designed for your laptop but doesn't create as much interference. It can work if you happen to find a suitable third party power supply that is OK for your laptop and generates less noise. Third party universal power supply can have different grounding practices than your original power supply, which can make things better or worse depending your luck. If you plan to go with this route test before you buy.
Often external USB audio interface is offered as a solution for bad laptop sound. As for the question about whether an external sound card will help in this case – the answer is "maybe it will, maybe it won't". Practically all USB audio interfaces I know have their output ground connected to USB ground that is connected to laptop ground. So using an external USB audio interface does not do anything (or much) to help on the ground loop problem unless you happen to have an external USB audio interface that is isolated from the laptop ground.
A DI with ground lift, or a transformer, is the way forward in solving this audio noise problem. If everything else fails then there is always option to pull the power lead on the laptop whilst playing back the audio and hope that you have enough battery capacity to run the entire show.
PS: Not all laptop power supplies are grounded. Other laptop power supply configurations include floating output and impedance grounded configuration (both free of the ground loop problems but can have other issues).