There seems to be a push for web based free electronics design tools at the moment. The situation is pretty different from what it used to be years ago when I though it would be good idea to add some form of schematic editing to the ePanorama.net forum, but lack of suitable ready software to be added and large work that would have been needed to build my own I rejected the idea at the time.
I have followed actively what is happening on the field now. I have earlier written about Scheme-it and Falstad Electronics Simulation. I have also mentioned CircuitBee schematic sharing platform.
Here is a new one promising looking service. CircuitLab released two days ago a browser-based schematic editor and circuit simulator for the online electronics community. CircuitLab is 100% web-based, Windows/Mac/Linux cross-platform, and requires no installation or plug-ins.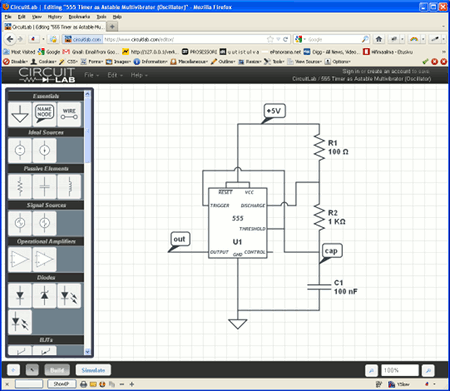 The idea is that instead of today's typical forum posts with static screenshots from different desktop tools, the online electronics community can now use CircuitLab to share useful URLs (as well as PNGs and PDFs) which link directly to interactive, editable, runnable schematics. So this is would in some way compete with CircuitBee service.
CircuitLab allows students and educators to draw and print beautiful schematics for lab reports. In-browser simulations make it easy to quickly learn electronics concepts via just-for-fun playing and guided exploration. CircuitLab lets electronics hobbyists rapidly test circuit ideas before breadboarding. SPICE-like models with a mixed-mode simulation engine help you apply one tool to a wide range of design tasks, from digital to analog, DC to VHF and beyond.
I found CircuitLab to be very easy to start to use. I have not use that much, but with brief testing this looks very promising service. You can get good idea of this software from Getting Started with CircuitLab video.