I'm Being Followed: How Google—and 104 Other Companies—Are Tracking Me on the Web is a voyage into the invisible business that funds the web. Who are these companies and what do they want from me? Even if you're generally familiar with the idea of data collection for targeted advertising, the number and variety of these data collectors will probably astonish you. Right now, a huge chunk of what you've ever looked at on the Internet is sitting in databases all across the world.
Many different companies want to know as much about me and what's on my screen as they possibly can, although they have different reasons for their interest. To be clear, these companies gather data without attaching it to your name (most of the companies do not know names of the people they are following); they use that data to show you ads you're statistically more likely to click. That's the game, and there is substantial money in it. Some of the best minds of my generation are thinking about how to make people click ads (think for example how many highly talented people Google has). The online advertising industry argues that technology is changing so rapidly that regulation is not the answer to queasiness about all that data going off to who-knows-where.
The bad news is that people haven't taken control of the data that's being collected and traded about them. At the moment there is a fascinating scrum over what "Do Not Track" tools should do and what orders websites will have to respect from users. Do Not Track signals a user's opt-out preference with an HTTP header. Several large third parties have already committed to honor Do Not Track, but many more have been recalcitrant.
It's now time for us to watch the watchers. Track Who's Tracking You With Mozilla Collusion. Collusion is a Firefox browser add-on that lets you track who's tracking you across the web for behavioral targeting purposes. There is a demonstration put up at collusion.toolness.org, which takes you through five popular websites and visualizes the data collection companies that track you across them. From there, you can download the add-on if you want to see the tracking visualization of your own browsing behavior evolve in real-time.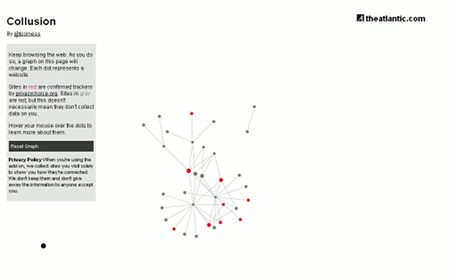 Collusion looks to offer more transparency to users by creating a visualization of how your data is being spread to different companies as you navigate the web. Each time it detects data being sent to a behavioral tracker, it creates a red (advertisers), grey (websites) or blue dot on the visualization and shows the links between the sites you visit and the trackers they work with. Mozilla has created an online demo to show just how quickly your data ends up in the hands of dozens of different companies as you move on popular web popular sites.
If you need the source code, it's all at github.com/toolness/collusion. For some more details take a look at Toolness Blog posting on Collusion. This is an interesting experiment to track on who is tracking you. Collusion is about alerting users to tracking that's happening without their consent. Very interesting! The more access to metrics the better.