When was the last time you carried around a 2nd device for taking pictures? No need! Phones now come equipped with megapixel cameras. It's all these advances in camera phone technology, point and shoot cameras just aren't as important as they used to be. Nokia has been the world's largest digital camera manufacturer for many years, as the sales of its camera-equipped mobile phones have exceeded those of any conventional camera manufacturer. I am not sure if this is true anymore because Nokia is not the biggest mobile phone manufacturer anymore.
There needs to be a good reason for carrying around a 2nd device for taking pictures. So digital cameras need to become continuously better than their mobile phone counterparts. There are a few easy ways to make a digital camera better: make the sensor bigger, improve the quality of the lens, speed up the processor. DSLRs have gone this route for a long time. DSLRs are able to produce considerably better pictures than mobile phones so cell phone cameras will not completely replace DSLRs any time soon.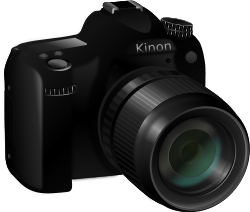 Those improvements I listed are incremental improvements on a basic technology that hasn't changed much in a long time. There are some new more radical technology changes coming. Here is one that is the looks most intersting.
Lytro has build an amazing new kind of camera. Lytro review: You've never seen a camera like this before article tells that Lytro built the self-titled Lytro camera, a digital camera that neither looks nor operates like any camera you've ever seen: it measures megarays instead of megapixels, captures light fields instead of light, and lets you focus your pictures after you've taken them. Lytro team has worked hard to bring this technology to life and manufacture the world's first light field camera for consumers. There's absolutely no doubt that the camera represents a huge technological achievement.
Lytro offers something never before seen in the world of photography: adjustable focus that you can adjust afterwards. Check Lytro gallery for some demos on how you can focus to different part of the picture when you view them. I would say pretty amazing. Lytro Light Field Camera: Snap Happy Or Photo Gimmick? and First week review and first 1,000 images with Lytro — the camera that lets you refocus after you shoot articles gives you some reviews of Lytro camera.
You might be interested in how this Lytro lightfield camera works. Lytro: Science Inside and The Science Inside Living Pictures articles describe he basics. If you are interested in hard science and equations used, read Lytro CEO's dissertation DIGITAL LIGHTFIELD PHOTOGRAPHY. View also Inside the Lytro camera, and the start-up's 3D future video.
The Size of Lytro's Sensor Compared with Other Common Formats tells that the sensor inside Lytro camera is roughly 6.5×4.5mm (slightly larger than the iPhone sensor and slightly smaller than the one in most point-and-shoot cameras) so I am pretty sure it has it's limitations. And I am pretty sure there are also other limitations on the technology also. First week review and first 1,000 images with Lytro article tells that is not a camera for many people because low light sensitivity sucks on the Lytro, sharpness and printability sucks, color saturation and quality isn't up to par with even cell phone cameras and processing images takes time and means picking focus point. So Lytro just doesn't make images that are hyper sharp, even when compared with cameras on cell phones. Still with limitations writer Robert Scoble says he really loves his Lytro: "t's just a well designed product that will bring me great joy, even with its limitations." So most propably you will not be be ditching your DSLR for a Lytro, but there could be some place for light field camera as well (remember for some time you get "no way" when showing the refocusability of the images).
Lytro's product seems to have activated some interesting DIY camera projects that you might want to check out. First start with this Light field photography and microscopy lecture video. It gives you good basics on the topic.
DIY: Build a Light-Field Device at home video claims that now you can build a little bit different light field camera at home! This video describes how to convert your camera into a light field camera using a printed cosine mask (transparency). Total cost is claimed less than $10. The captured photo with the mask on top of CCD will be a "light field" photo which can be used for refocusing after the photo has been taken. Looks easy but I don't yet buy the idea because this video lacks the description of the post-processing needed for focusing the picture.
Fortunately the video description text has two links to more information: Dappled Photography: Mask Enhanced Cameras for Heterodyned Light Fields and Coded Aperture Refocusing and Lytro vs Mask Based Light Field Camera.
Lytro vs Mask Based Light Field Camera article tells that you can convert your medium format digital/film camera into a 4D light field camera. A Light Field camera captures the variations in the rays falling on the sensor. A traditional 2D camera (your favorite point & shoot or SLR camera) outputs a 2D image, a grid of integer values specifying the intensity at each pixel. The intensity value of the pixel is equal to the sum of all the rays falling onto the pixel. However, we would like to capture the variation among the rays falling onto a sensor pixel. By capturing the ray-space, we can obtain all the light information in geometric ray optics inside the camera.
There are several ways to capture the light field. One way is to put a lenslet array in front of the sensor such that the main lens is focused on the lenslet array and the lenslet array is focused on the sensor. This is the approach used by Lytro, which is offereing the first commerical light field camera. Now the cone of rays from a focused scene point falls on the lenslet which diverts the rays to different pixels on the sensor. One can thus capture the angular variation among rays. However, spatial resolution is lost since the sensor pixels are now used to sample the angular variations.
Lytro vs Mask Based Light Field Camera article describes another design that is based on non-refractive elements such as masks. In this design, a pinhole array mask (transparency) is place in front of the sensor. Each pinhole samples the angular variation by forming the image of the aperture on the sensor. The article writers printed a pinhole array mask of the same size as 36mm by 48mm Dalsa CCD imaging sensor (5344 by 4008 pixels) the and simply dropped it on top of the sensor protective glass. The design used was square pinhole opening of 25 microns width printed at 5080 DPI at local printing company (A4 sized transparency holding 20 masks can be printed for less than $100).
Sound easy. What are the advantages and disadvantages of using masks for light field capture? This loss of resolution is inherent whether we use masks or lenslets if we want to capture a light field. But by using masks, we could avoid the loss of spatial resolution in certain cases (when agular dimension is not needed). Low cost and ease of use are also benefits for mask approach. The biggest disadvantage of using masks is the loss of light since masks are attenuators. If we use a pinhole array mask, then only 5 percent of light goes through, rest is blocked.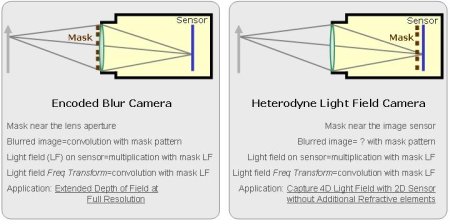 Dappled Photography: Mask Enhanced Cameras for Heterodyned Light Fields and Coded Aperture Refocusing article gives some views to the post-processing needed for refocusing the picture. The writers used a patterned attenuating mask to encode the light field entering the camera. Depending on where you put the mask, you can effect desired frequency domain modulation of the light field. If we put the mask near the lens aperture, we can achieve full resolution digital refocussing. If you put the mask near the sensor, we can recover a 4D light field without any additional lenslet array. In the end of the article there is an animation showing views obtained from light field.
The results seems to be far from the ready solution from Lytro, but interesting reading I must say. Some of the reading material reminds me of some material I saw many years ago in optics course I took years ago…