Do you remember diode-transistor logic? Diode–transistor logic (DTL) was the direct ancestor of transistor–transistor logic. You could easily do OR and AND functions with diodes, and then use transistor for amplifying and implementing NOT function.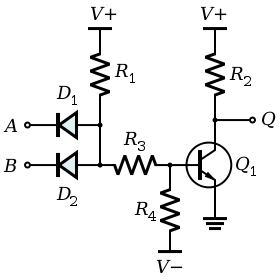 Perform the XOR/XNOR function with a diode bridge and a transistor article shows you discrete DTL-like circuits that use an unusual method to implement the XOR and XNOR operations with a minimum of components.
These circuits have limitations: the XOR seems to be suitable only for the CMOS/TTL input at A and B and capable of driving only CMOS at output Y. XNOR circuit has somewhat better performance but can not provide output logic level less than 0.8V could not work with TTL. I think the circuit idea like this could work better on systems that use higher voltage and more current than normal 5V logic (for example 24 volt DC control system). Actually it's not minimum parts design according to article comments. Single gate SMDs have mostly made this kind of approach obsolete.