MaKey MaKey claims to be is an invention kit for the 21st century that can turn everyday objects into touchpads. It is designed to be a simple Invention Kit for Beginners and Experts doing art, engineering, and everything in between. It is targeted for Artists, Kids, Educators, Engineers, Designers, Inventors, Makers. If you believe that the whole world is a construction kit, this could be one piece you need in your kit (costs $49.95 USD). MaKey MaKey turns anything into a touchpad. Look the demonstration video below to get the idea.
MaKey MaKey is a special kind of keyboard emulator: The computer just thinks MaKey MaKey is a regular keyboard. It sends key codes to computer when you use your own touchpad keys. MaKey MaKey can also emulate a mouse. Because MaKey MaKey emulates normal keyboard and mouse, it works with all programs and webpages, because all programs and webpages take keyboard and mouse input.
MaKey MaKey is a printed circuit board with an ATMega32u4 microcontroller running Arduino Leonardo firmware. MaKey MaKey uses the Human Interface Device (HID) protocol to communicate with your computer, and it can send keypresses, mouse clicks, and mouse movements. MaKey MaKey runs on top of Arduino, and it is possible to start using your MaKey MaKey board in "Arduino mode" if you want.
MaKey MaKey is a good starting point as it is: you can do the interfacing easily without any need to understand Arduino programming. Human Interface Device (HID) device USB operation mode makes sure you don't need any special drivers (they are already built in to your OS). Because the board has also Arduino identity, your computer may ask you to install drivers or do other setup (this happened to me), but this is not needed to make things work. You can click cancel or close the window.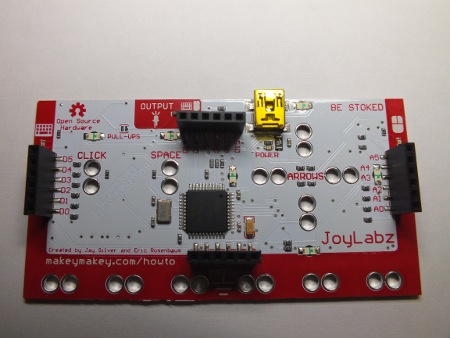 Makey Makey allows you to build touch switches from almost any conductive object easily. Makey Make uses closed switches sense method to read your touch. For sensing closed switches on the digital input pins, Makey Makey uses high resistance switching (a pull-up resistor of 10-50 mega ohms). This approach allows to have a very high resistance (megaohms range) to be detected as closed switch. This means that almost any material that can conduct at least a tiny bit of electricity will work.
There are six inputs on the front of the board (cursor keys, space, click), which can be attached to via alligator clipping (or soldering to the pads if you want permanent connection). Good thing on the inputs is that the board has LEDs near the inputs that show when those inputs are active. This makes debugging your own key connections quick and easy.
There are another 12 inputs on the back on female headers: 6 for keyboard keys and 6 for mouse motion. The kit will include everything you need to start experimenting: MaKey MaKey board, a set of wires with Alligator Clips and USB Cable. MaKey MaKey Quick Start Guide gives the instructions to get started.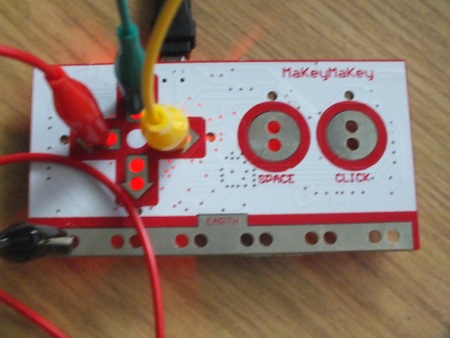 You can close a switch input through materials like your skin, fruits, plants, pencil graphite and play-doh. You can make touch switches when your body can act as a conductor that conducts a small current from keyboard input contact to ground (the voltage is maximum 5 volts and current is micro-amperes so it is safe to touch). The downsides of the selected key sensing approach is that to make touch keys you need to have yourself grounded in a way or another and the high impedance attracts noise on the input. Makey Makey uses a moving window averager to lowpass the noise in software.
The switching worked almost as well as described on video. First I had some problems with working of touch operation: my dry skin on dry air environment conducted too little electricity. Keeping the skin moist kept things working. I tested with some different materials for keys. A banana worked well as space bar. Static control wrist strap (with 1 megaohm resistor built in) worked well for grounding me to the board comfortably. Pelikan Creaplast modelling material did not work for making touch keys (did not conduct electricity). Play-Doh worked very well because it is primarily a mixture of water, salt, and flour.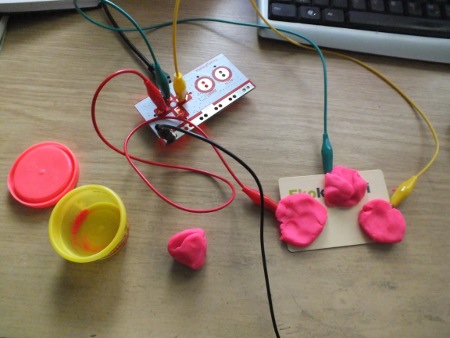 With Makey Makey and your own keys you can for example play very many Flash based games you can find on many web pages (for example Hot Wheels web page has many car games you control with cursor keys). It worked well. MaKey MaKey home page has software you can try.
Makey Makey works well. One question that comes to my mind is how reliable the board will be in use. Especially the questions how well the the board will handle ESD events that are unavoidable with touch contacts. The control input connect pretty directly to micro-controller input pins without special ESD protection components. So can the controller handle all those unavoidable ESD events without extra protection? I don't know. If you always remember to connect yourself to ground before playing, I don't see any problem. But what if you touch input pin without grounding on a cold winter day when you get lots of electricity charged to you… that's left to be seen.
Some people have combined Makey Makey and Raspberry PI computer to make gadgets like soundbaord shown in Makey Makey and Raspberry Pi Halloween Sound Board video.