3D Printing Flies High now. Articles on three-dimensional printers are popping up everywhere these days. And nowadays there are many 3D printer products. Some are small enough to fit in a briefcase and others are large enough to print houses.
Everything you ever wanted to know about 3D printing article tells that 3D printing is having its "Macintosh moment," declares Wired editor -in-chief Chris Anderson in cover story on the subject. 3D printers are now where the PC was 30 years ago. They are just becoming affordable and accessible to non-geeks, will be maybe able to democratize manufacturing the same way that PCs democratized publishing.
Gartner's 2012 Hype Cycle for Emerging Technologies Identifies "Tipping Point" Technologies That Will Unlock Long-Awaited Technology Scenarios lists 3D Print It at Home as important topic. In this scenario, 3D printing allows consumers to print physical objects, such as toys or housewares, at home, just as they print digital photos today. Combined with 3D scanning, it may be possible to scan certain objects with a smartphone and print a near-duplicate. Analysts predict that 3D printing will take more than five years to mature beyond the niche market. Eventually, 3D printing will enable individuals to print just about anything from the comfort of their own homes.Slideshow: 3D Printers Make Prototypes Pop article tells that advances in performance, and the durability and range of materials used in additive manufacturing and stereolithography offerings, are enabling companies to produce highly durable prototypes and parts, while also cost-effectively churning out manufactured products in limited production runs.
3D printing can have implications to manufacturers of some expensive products. The Pirate Bay declares 3D printed "physibles" as the next frontier of piracy. Pirate Bay Launches 3D-Printed 'Physibles' Downloads. The idea is to have freely available designs for different products that you can print at home with your 3D printer. Here a video demonstrating 3D home printing in operation.
Shapeways is a marketplace and community that encourages the making and sharing of 3D-printed designs. 3D Printing Shapes Factory of the Future article tells that recently New York Mayor Michael Bloomberg cut the Shapeways' Factory (filled with industrial-sized 3D printers) ribbon using a pair of 3D-printed scissors.
The Next Battle for Internet Freedom Could Be Over 3D Printing article tells up to date, 3D printing has primarily been used for rapid commercial prototyping largely because of its associated high costs. Now, companies such as MakerBot are selling 3D printers for under $2,000. Slideshow: 3D Printers Make Prototypes Pop article gives view a wide range of 3D printers, from half-million-dollar rapid prototyping systems to $1,000 home units. Cheapest 3D printers (with quite limited performance) now start from 500-1000 US dollars. It is rather expensive or inexpensive is how you view that.
RepRap Project is a cheap 3D printer that started huge 3D printing buzz. RepRap Project is an initiative to develop an open design 3D printer that can print most of its own components. RepRap (short for replicating rapid prototyper) uses a variant of fused deposition modeling, an additive manufacturing technique (The project calls it Fused Filament Fabrication (FFF) to avoid trademark issues around the "fused deposition modeling" term). It is almost like a small hot glue gun that melts special plastic is moved around to make the printout. I saw RepRap (Mendel) and Cupcake CNC 3D printers in operation at at Assembly Summer 2010.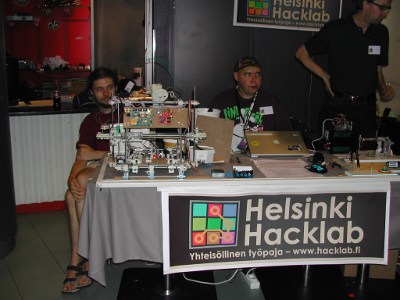 There has been some time been trials to make 3D-Printed Circuit Boards. 3D Printers Will Build Circuit Boards 'In Two Years' article tells that printing actual electronics circuit boards is very close. Most of the assembly tools are already completely automated anyway.
3D printing can be used to prototype things like entire cars or planes. The makers of James Bond's latest outing, Skyfall, cut a couple corners in production and used modern 3D printing techniques to fake the decimation of a classic 1960s Aston Martin DB5 (made1:3 scale replicas of the car for use in explosive scenes). The world's first 3D printed racing car can pace at 140 km/h article tells that a group of 16 engineers named "Group T" has unveiled a racing car "Areion" that is competing in Formula Student 2012 challenge. It is described as the world's first 3D printed race car. The Areion is not fully 3D printed but most of it is.
Student Engineers Design, Build, Fly 'Printed' Airplane article tells that when University of Virginia engineering students posted a YouTube video last spring of a plastic turbofan engine they had designed and built using 3-D printing technology, they didn't expect it to lead to anything except some page views. But it lead to something bigger. 3-D Printing Enables UVA Student-Built Unmanned Plane article tells that in an effort that took four months and $2000, instead of the quarter million dollars and two years they estimate it would have using conventional design methods, a group of University of Virginia engineering students has built and flown an airplane of parts created on a 3-D printer. The plane is 6.5 feet in wingspan, and cruises at 45 mph.
3D printers can also print guns and synthetic chemical compounds (aka drugs). The potential policy implications are obvious. US Army Deploys 3D Printing Labs to Battlefield to print different things army needs. 'Wiki Weapon Project' Aims To Create A Gun Anyone Can 3D-Print At Home. If high-quality weapons can be printed by anyone with a 3D printer, and 3D printers are widely available, then law enforcement agencies will be forced to monitor what you're printing in order to maintain current gun control laws.
Software Advances Do Their Part to Spur 3D Print Revolution article tells that much of the recent hype around 3D printing has been focused on the bevy of new, lower-cost printer models. Yet, significant improvements to content creation software on both the low and high end of the spectrum are also helping to advance the cause, making the technology more accessible and appealing to a broader audience. Slideshow: Content Creation Tools Push 3D Printing Mainstream article tells that there is still a sizeable bottleneck standing in the way of mainstream adoption of 3D printing: the easy to use software used to create the 3D content. Enter a new genre of low-cost (many even free like Tikercad) and easy-to-use 3D content creation tools. By putting the tools in reach, anyone with a compelling idea will be able to easily translate that concept into a physical working prototype without the baggage of full-blown CAD and without having to make the huge capital investments required for traditional manufacturing.
Finally when you have reached the end of the article there is time for some fun. Check out this 3D printing on Dilbert strip so see a creative use of 3D printing.