An electromagnetic field (also EMF or EM field) is a physical field produced by moving electrically charged objects. It affects the behavior of charged objects in the vicinity of the field. The electromagnetic field extends indefinitely throughout space and describes the electromagnetic interaction. It is one of the four fundamental forces of nature.
EMF measurement are measurements of ambient (surrounding) electromagnetic fields. The EMF meter is used to measure the magnetic (and sometimes electric) fields associated with ELFs (e.g. powerline frequencies) whilst the RF broadband meter should measure the voltage gradient or power density of RF fields. The fields that are normally measured at low frequencies are electric field and magnetic field. At high RF frequencies those electric field and magnetic field are pretty hard to separately measure, so RF field strength is measured.
EMF measurements are normally done with EMF meters. There are many types of EMF and no single instrument can measure them all. EMF meters are are built using antennas with different characteristics and received signal strength display. EMF radiation is mainly characterized by its frequency and its strength. EMF meters are available with a wide range of sensitivities, frequency responses and features. Generally to got good picture of EMF, you need for lower frequencies (like mains 50 Hz and so) a meters for magnetic fields (gauss) and electrical fields (V/m), and also a broadband RF meter for RF fields. RF and microwave meters generally measure the voltage field in volts per metre (V/m, or for smaller fields, mV/m) although they often use this measurement to calculate and display the power density in watts per square metre (W/m2).
Why EMF fields are measured?
ARE EMF's DANGEROUS ? article says that EMF can be dangerous in some situations. The energy in high power RF fields can be converted to heat in human tissues, causing burns and lasting cell damage. Powerful ELF fields can interfere with the human nervous sytem, causing temporary paralysis and pain. Low power EMFs are not regarded as dangerous in the way that high power EMFs are. However, there is evidence that long term chronic exposure to low power EMFs can cause, or at least contribute to, both a number of medical conditions and to general ill health. Although inconclusive, this evidence has nevertheless prompted a number of authorities to advocate a precautionary approach to EMF exposure. It can be very hard to say exactly what levels of EMF are safe, because safety in this arena is often a relative concept based on frequency, exposure time, and possibly individual sensitivity. EMF Levels & Safety web page is constructed to examine / compare / contrast various safety standards, average environmental levels and references.
When you can measure EMF strength, you know to which kinds of fields you are exposed to. With this information you can determine if everything is on the safe side or if you might need to think about what to do with the situation (for example limit your exposure you get either by protecting against it or limiting exposure time).
EMF fields can also interfere with the operation of different electronics devices if they are not properly shielded. EMF fields can for example cause noise to audio system that is in strong field. So I have used EMF meters also as tools when trying to figure out why noise gets to some audio/video systems. Ground loops can receive noise voltages from AC magnetic field and the current flowing on ground loops also causes magnetic fields. Ground loops allow electrical and magnetic interference to create noise voltage sources. The primary sources of these noise problems are Magnetic Induction and Ground Imbalance. The magnetic field causes electrical current to flow in the ground loop. EMF maters can be one useful tool to add to your pack of tricks in trying to figure out noise problems in electronics systems.
Measuring tools
For magnetic field measurements I have used Velleman Magnetic Field Detector VTEMF (got one very cheaply years ago). Velleman describes the product: "Detects the harmful electromagnetic fields generated by high voltage cables, computer and television screens, microwave ovens, waterbeds, electric blankets, etc. Scientists believe that electromagnetic fields of 2-3mG and above, increase the risks of cancer and other dangerous disorders. With LED indication: 1, 3, 6 and 10mG" VTEMF Magnetic Field Detector User Manual says that VTEMF detects well the low-frequency fields (like caused by 50-60 Hz currents).
According to manual levels from 2 to 3 mGauss (and up) can cause problems like risk of cancer etc.. What would be an exact level what would be safe or dangerous or safe is hard to say, different sources give different values. General rule of thumb feels like anything below 1 mG should not cause worries. If you are nearing 10 mG or more, then it might be a good idea to think more on that. I have measured fields on different places. I get the device beeping near (half meter or less) traditional wall-warts (not that much with modern switchers), in front of electrical distribution panel etc.. VMEMF also detects bass beats when put near car bass speaker.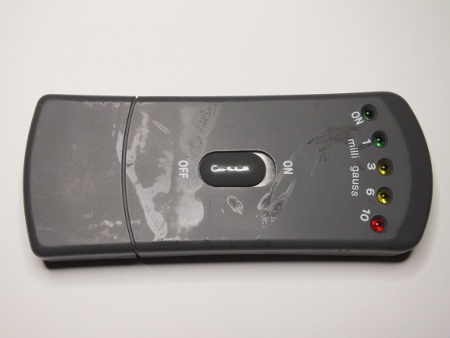 For electric fields and RF field measurements I have used DT-1180 2.3″ LCD Screen Electromagnetic Radiation Detector. There are many cheap field meters around, but this was different from many other in that displays the results in some sensible unit (many just give some number without unit).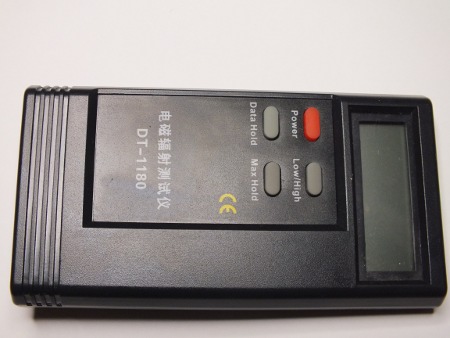 Measurement results
I have measured several results:
- Normal home: ~0 V/m and less than 1 milliGauss
- Meter next to light switch on wall: 200-500 V/m , 1-2 milliGauss (readings drops quickly when meter moved 20 cm away)
- 10 cm from "wall wart" transformer: 10 milliGauss magnetic field
- Meter next to laptop PSU: less than 1 milliGauss
- In railway station waiting for train (25 kV electrical train): ~900 V/m and less than 1 milliGauss
- Below high voltage line (20kV): 36 V/m and ~ 1 milliGauss
- Below high voltage line (110 kV): ~200 V/m and ~1 milliGauss
- Below high voltage line (400 kV): ~1200-1450 V/m and ~6 milliGauss
Here are some picture of electrical measurements below 400 kV power line: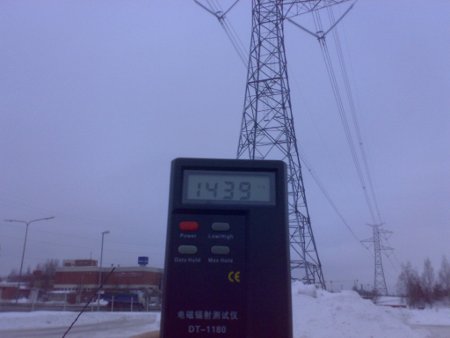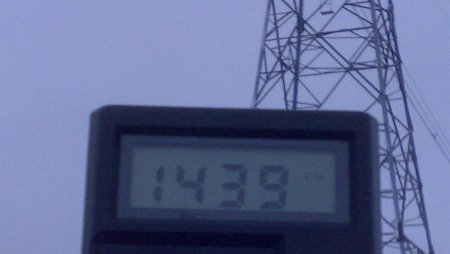 The electrical field is so strong could be also noticed with a normal multimeter: It showed 300-700 mV AC without the measurement leads connected to anything (just spread out).
And the magnetic field below same line:
Electric and Magnetic fields in the Environment is an informative booklet on power frequency EMFs. It gives you ideas what kind of fields can be found near power lines and says that international scientic consensus is that there is no evidence to prove that these EMF's can cause any harm.