Why does not my tablet touch screen work when powered with third party mains power supply, but works with the original power supply? This happened to me. The power supplied I had were both for tablets (different tablets) and had similar basic characteristics (same current and voltage ratings).
The reason why the other power supply caused the touch screen to fail was related to the noise given out by the power supplies and the touch screen electronics sensitivity to this noise. One power supply outputs more noise than the other. How this noise affect the touch screen electronics is shown in this picture MoU regarding Harmonisation of a Charging Capability for Mobile Phones, June 5th, 2009.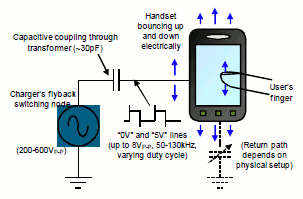 This is nothing new, just now well documented what happens. This same happens with practically any today's mobile phone charged based on switch mode power supply technology. Smart-phones and tablets need to be designed so that they can live with it. And power supplies needs to be designed to that they do not put out too much noise. Some details on this can be found at my EU standards for common mobile phone charger article.
Dealing with noise is an important aspect of any real-world electronic system, especially in a capacitive touchscreen in a cell phone or tablet. Noise Immunity of Touchscreen Devices web page tells that while there are many sources of noise that can interfere with capacitive touch sensing, the most prominent ones originate in displays and battery chargers. Cypress Offers Battery Charger Noise Immunity web page tells that low-cost chargers lack critical noise suppression components and can generate tens of volts (peak to peak) across the frequency spectrum of 1 Hz to 1 MHz. These voltage spikes can go directly into the touch panel during the presence of touch, severely impacting touch performance. Mobile phone vendors have worked together to create EN 62684 and EN301489, standards that regulate the noise spectrum for battery chargers.
Cypress Offers Battery Charger Noise Immunity web page tells touch screen controllers are developing all the time. It tells that a new TrueTouch feature Charger Armor enables touchscreens in mobile devices to function seamlessly by preventing inaccurate touch readings, which are often caused by common-mode noise from inexpensive chargers.
It is a good thing that those touch controllers are improving, because many people (electronics designers and users) struggle to overcome charger noise.