For the last week news sources have been full of controversy over the NSA's controversial PRISM surveillance program (check the latest comments on my Security trends for 2013 article) after top-secret slides detailing the massive electronic surveillance programme were leaked last week by ex-CIA techie Edward Snowden.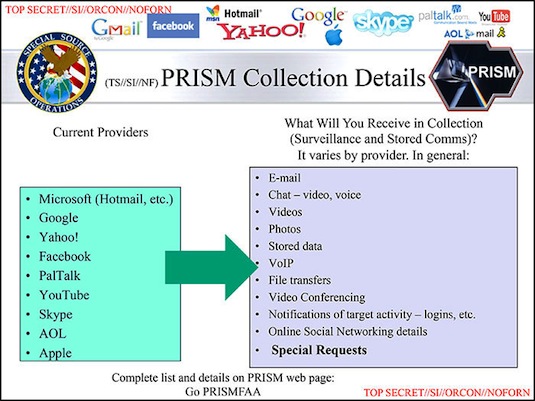 If those newspaper reports are accurate, the NSA's surveillance programs are enormous and sophisticated, and rely on the latest in analytics software. The NSA may have set aside a paltry annual budget of $20m for its internet-data hoovering program. In the face of that, is there any way to keep your communications truly private?
Kenneth Falck comments on his blog the situation around this security like this: Global awareness of PRISM would be good for promoting end-to-end encryption (instead of trusting Skype/Facebook), but I see no activity.

Slashdot posting Keeping Your Data Private From the NSA (And Everyone Else) seems to promote that idea of using encryption techniques to keep NSA out of your communications. It says that fortunately there are ways to gain a measure of security: HTTPS, Tor, SCP, SFTP, and the vendors who build software on top of those protocols.
The downside is that those host-proof solutions offer security in exchange for some measure of inconvenience. Keeping Your Data Private from the NSA (and Everyone Else) article article give your instructions how you can use HTTPS, Tor, SCP and SFTP to secure your communications. What do you think is the best way to keep your data locked down?