Software-defined radio (SDR) has been a hot topic for many years. Software-defined radio (SDR) is a radio communication system where components that have been typically implemented in hardware (e.g. mixers, filters, amplifiers, modulators/demodulators, detectors, etc.) are instead implemented by means of software on a personal computer or embedded system.
There has been many even free software implementations of SDR (for example Gnu Radio), but to use them you have needed some special hardware that has been quite expensive. But now there are also inexpensive hardware options for receiving: rtl-sdr is a creative form of using consumer-grade DVB-T USB receivers, turning them into fully-fledged software defined radios. At a street price of about 20 Euros/USD they are undoubtedly the most capable low-cost SDR hardware that can be bought.
RTL-SDR: Inexpensive Software Defined Radio article gives an introduction how to built software radio this way. Hare is a good picture from that article the gives overview of the hardware.
Those DVB-T receivers supported by rtl-sdr are based on the Realtek RTL2832U chipset plus a tuner IC like the Elonics E4000 (can tune from 54-2200 MHz with gap at 1100-1250 MHz). The RTL2832U is a high-performance DVB-T COFDM demodulator that supports a USB 2.0 interface. It has some undocumented commands/registers, by which it can be placed into a mode where it simply forwards the unprocessed raw baseband samples (up to 2.8 MS/s 8-bit I+Q) via high-speed USB into the PC so they can be routed to suitable receiving program.
Of course you need suitable software to decode those samples. Suitable Windows Software for the application is the very nice, fast and open source SDR#. It can natively support RTLSDR hardware. Other option to connect to SDR hardware is through TCP connection: The Osmocom RTLSDR utilities include the program rtl_tcp. This allows you to run the dongle on one PC (be it Windows or Linux) or an embedded ARM/MIPS board and pump the ADC data over a TCP connection to another computer running a compatible client such as SDR#.
To test software defined radio I got quite many months ago suitable rtl2832u-sdr hardware: Ezcap EZTV645 DVB-T Digital TV USB 2.0 Dongle with FM/DAB/Remote Controller. Here is a picture of dongle and the antenna that comes with it.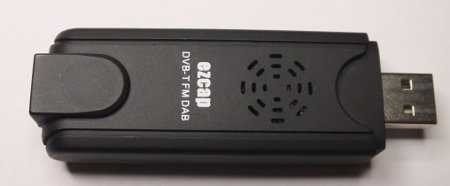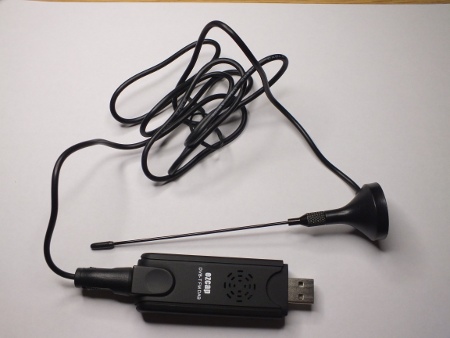 Here is what the USB dongle looks like inside. As you can see there are not too many components in it.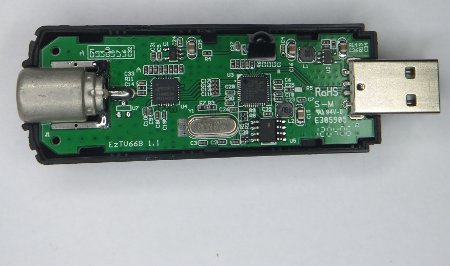 Here is a close-up of the tuner and receiving chips.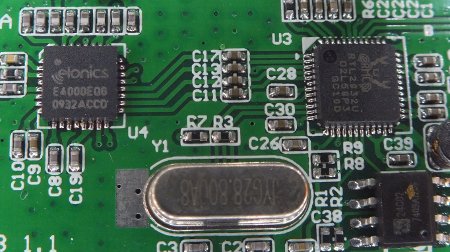 To make the software to work the hardware, the original USB drivers for the dongle needs to be replaced with Zadig WinUSB drivers. WinUSB is a generic USB driver aimed at simple devices that are accessed by only one application at a time directly through a simple software library.
I had some problems in installing Zadig drivers to my systems. That slowed down staring to use the hardware quite a bit. The official driver instructions say to select "Bulk-In, Interface (Interface 0)" from the drop down list, but on my system the device I had showed on my system system as REALTEK 2832U (0). Zadig needed to be "run as administrator" to work as well Zadig needed to be "run as administrator" (quite slow and needed reboot).
Replacing the original driver it with Zardig (zadig_v.2.0.1.161.exe) made it work with SDR# (old Nightly built of SDR# with built-in REALTEK 2832U drivers). Here is the screen-shot of the software in use listening to FM radio (SDR# v1.0.0.357 Nighly with RTL-SDR/RTL2832U).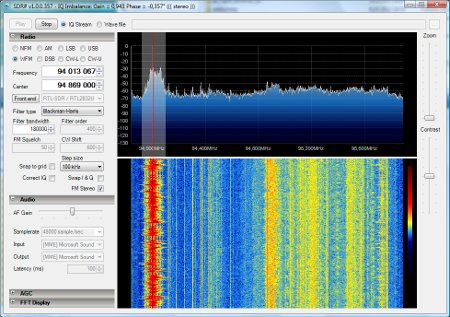 SDR# seemed to work well in listening to FM stations. I could also easily use it to listen to the transmissions from different 433 MHz RF remote controllers as well. The software can decode AM, NFM, LSB, USB, WFM, DSB, CW-L and CW-U signals.
The spectrum and waterfall displays give a good overview on the received signal. The spectrum display shows around 2 MHz frequency band (+-1 MHz from center frequency).
As you can see on the spectrum, the dynamic range between the noise floor and strongest signals is quite limited (due to 7 or 8 bits resolution of samples), which means you can listen to strong signals but weaker stations can easily be lost under the sample noise. Because the E4000 is a Direct Conversion Receiver, it has an Image Rejection problem. By switching on Correct IQ in SDR# a more or less acceptable 50dBs are reached. The E4000 shows many signals actually not present at its input ("birdies").
I got pretty cheaply pretty nice radio receiver that can receive very many radio signals and do spectrum analysis for radio signals.