A video wall consists of multiple computer monitors, video projectors, or television sets tiled together contiguously or overlapped in order to form one large screen. Typical display technologies include LCD panels, LED arrays, DLP tiles, and rear projection screens.
Simple video walls can be driven from multi-monitor video cards, however more complex arrangements may require specialized video processors, specifically designed to manage and drive large video walls. On the front side you just see a big bright picture.
There were many LED video wall on display at AudioVisual 2013. I took a view what they look on the both sides. This one shows a quite typical arrangement used on LED video walls.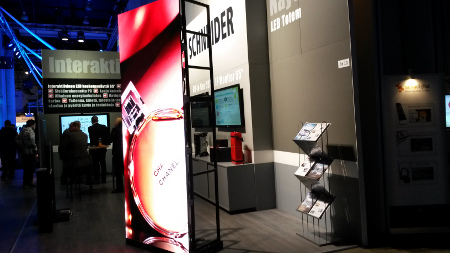 On the back side you can see how those things are built from square units that are connected to each other to form a display of needed size. In this specific display the parts on the vertical row were connected together with two wired between every display module. The bigger connector that looks like Speakon connector is actually a PowerCon connector that carries mains power. The power gets to the bottom module and gets though the module to the next above.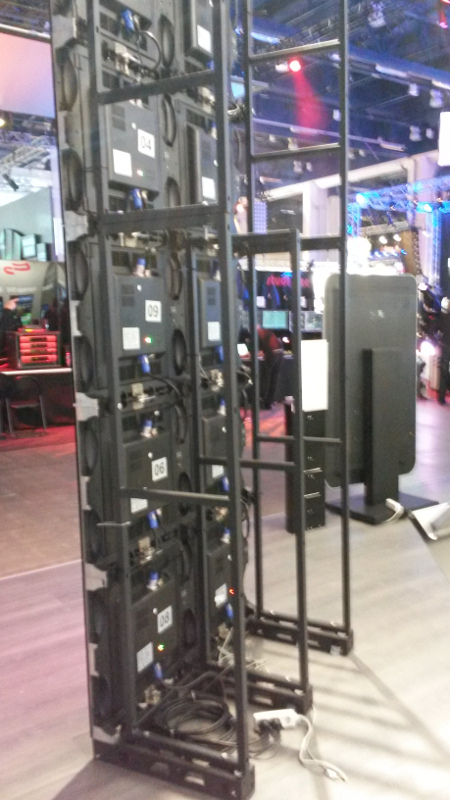 Next to the power connector there was another connector that looked outside like XLR connector, but was XLR shell with RJ-45 connector in it. I am not sure what signal format is carried there, but I think it could be Ethernet. The video/picture data seemed to be coming to the video wall with RJ-45 cable.
Video walls are expensive professional hardware, but there are also some cheaper DIY projects in Internet related to video walls. Here are some links to DIY video wall projects for those who want to try to build their own video wall system:
Hackaday.com video wall projects
Giant video walls powered by a Raspberry Pi
Multiple Raspberry Pi boards used to create video wall