How low can Ethernet switches prices go? In small unmanaged 8 port 10/100M 5 or 8 port switches typical price is around 15-25 Euros (around 2-3 Euros per port). But there are even cheaper Ethernet switches. Netwjork Tenda S108 SOHO kytkin/switch jossa 8 porttia is a very cheap 8 port 10/100M switch that costs only 7.90 Euros – less than 1 euro per port!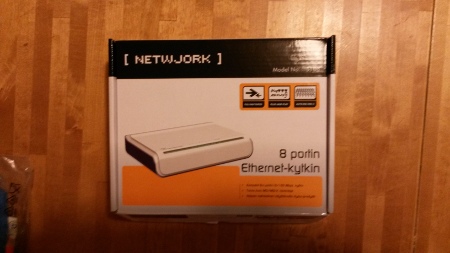 That's really cheap. Can this kind of switch work? The truth is that it works and has OK specifications. It has eight 10/100Mt twisted pair ports, automatic speed selection, Full/half duplex support, MDI/MDI-X on all ports, IEEE802.3x flow control support and has capability to handle 1000 MAC addresses. The device is in plastic package and has external power. Here are pictures of the switch on table and in use.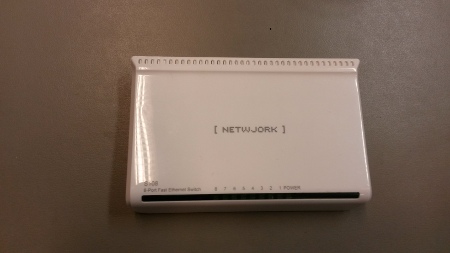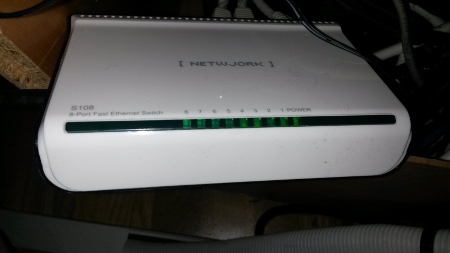 When you look at the bottom of the device you can see the that the device needs 9V 0.6A power supply to work.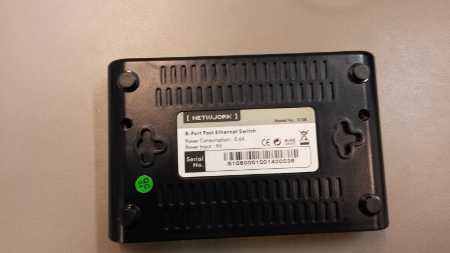 An older switch bought some time ago came with 230V to 9VAC 0.6A classic "wall wart" type power supply. The newer switch bough very recently had 230V to 9V DC 600 mA switch mode power supply. So it seems that this device can take both AC and DC.
Now take a look at the Ethernet connectors and see something unusual.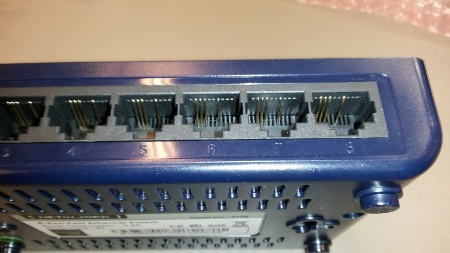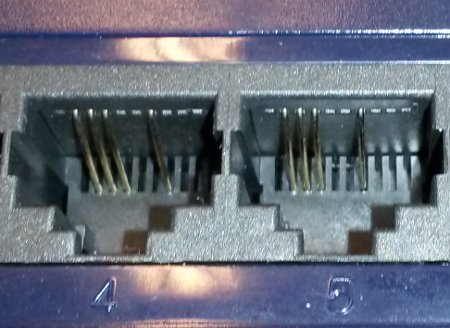 As you can see only 4 pins on RJ-45 connector! To make the device cheap they have even saved on Ethernet connectors to leave out pins that are not absolutely needed. The 10/100M Ethernet data needs only four pins.
Normal Ethernet switches with RJ-45 connectors that have normal 8 pins there typically special termination circuitry connected to unused wire pairs. Typically Ethernet device designers provide what is known as a "Bob Smith" termination for the unused pairs on the twisted-pair, which provides some extra common-mode shielding (compared to not connected anywhere) if the ground is quiet. For example ST and Micrel recommend to terminate the unused pairs (pins 4, 5 & 7, 8 in the RJ-45 cable connector). This specific switch lacks termination, which means that in some cases it might not perform as well as some other switches, but should perform "well enough" for normal uses.
Other note is that the Ethernet connectors are completely made of plastic, no metal parts that you see in many devices to ground shield of shielded cables when such cables are connected. Maybe this switch is best used with just unshielded cable (not much help of trying to use shielded cables, could even perform worse than unshielded with this).
Let's take a look the circuit board.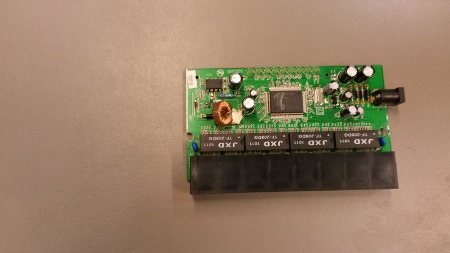 The circuit board seems to have just main switch IC, Ethernet transformers, connectors, LEDs, power supply and some other parts.
The power supply consists of bridge rectifier (four diodes) followed with filtering capacitors and switch mode power supply. The bridge rectifier plus filtering capacitors makes it possible for the device to accept both AC and DC power from mains power supply without problems. The switch mode power supply that generates the power for switch IC is based on MC34063A switch mode controller IC and SSG9435SC FET.
The Ethernet switch IC is IP178D LF from IC+. According to datasheet the IC supports 2k MAC address and has quite good feature set (not all used on this product). Here is the block diagram of the switch IC from the datasheet, it looks pretty normal modern Ethernet switch block diagram.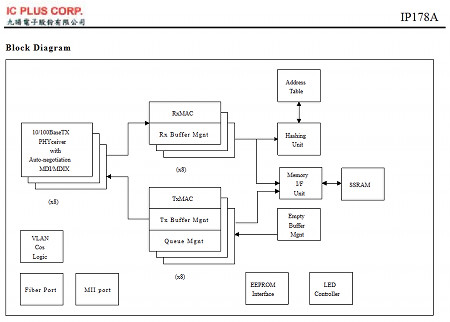 Next question is that is there potential for some hacking to get more features to this? I don't know. The IC info page promises features like QoS support (port, 802.1p & DiffServ, can be enable with pin or EEPROM), port mirror function and two fiber ports. For more information check IP178 datasheet.
I would say that this product packs quite a bit of electronics for being such cheap product (less than 10 Euros). And what is best, it seems to work well. At the moment I don't plan to hack it.