Nowadays the most commonly used microphone types that need power from microphone connector are PC sound card microphones (3.5 mm plug) and Phantom powered professional microphones (XLR connector). Those two microphones are not compatible with each other, but there are cases where you might want to interchange them. In this posting I will describe how to connect PC microphone to professional mixer phantom powered XLR mic input. This is an application I have made few times and I have got questions several times on my mailbox.
Phantom power feeds 12-48V power to both signal wires on the connector as describes in this picture from Belden document Phantom Powered Microphones:
PC microphone feeds lower voltage (typically 3-5V) to ring contact of 3.5 mm jack (similar to plug-in-power PiP). Here is the operation principles of PC sound card microphone interface from my Microphone powering document: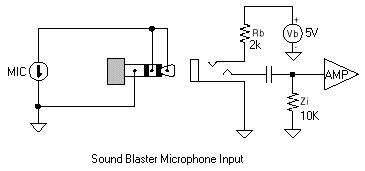 On my Microphone powering document I had provided a "simplest circuit": very simple method of connecting an electret microphone capsule to the a balanced phantom powered (48V) mixer XLR input.
                     _____
   HOT (2) ---------|_____|------+
                    47 kohm      |+
                                MIC
  COLD (3) ----+              CAPSULE
               |                 |-
GROUND (1) ----+-----------------+


Note that this is a very simple "hack" to interface an electret microphone capsule to a mixer. This circuit works but has it's downsides like sensitivity to noise in phantom power, unblanced signal transmission (prone to interference) and high output impedance (can't properly drive long cables). This circuit can be used to test electret capsules connected to mixer using very short cable. The circuit has proven to work with some modern electret capsules and some mixers, but has had some problems. For example some microphones fail to work with this circuit properly (if they take very little current the voltage over them can get too high for them to work).
So something better was needed. The balanced circuits from Microphone powering document are out of question for PC microphone adaptation, because in PC microphones minus side of electret capsule is connected to cable shield, while my balanced adapter circuit needed the electret capsule to be floating (T-power like connection).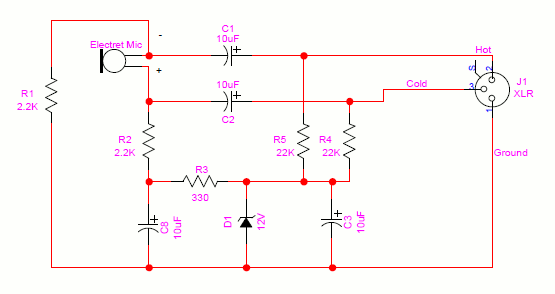 Trying to just wire in PC mic with cable to such circuit will cause the circuit to pick up lots of noise! "Better electret microphone phantom powering circuit" and similar designs from Microphone powering document are not suitable for PC microphones or headsets as they are normally wired.
So I needed a "different better approach" to power PC microphones from "P48" or "phantom power 48 volts".
Some years ago I made a better trick that works with PC microphones which are wired so that tip and ring contacts are shorted together on the mic (quite many microphones have I have are two wire electret capsules wired in this way). I took apart an old adapter I built years ago and had not documented so I can document it now:
I have wired 27 kohm resistor from XLR pin 2 to 3.5 mm plug tip.
I have wired XLR pin 1 to 3.5 mm plug shield/ground.
I have wired 2.2 kohm resistor between 3.5 mm plug tip and shield/ground.
In this hack I had not connected anything connected to XLR pin 3, so maybe it would be a good idea to have there 26 kohm resistor to pin 1 ground.
I added that and ended with the following circuit design: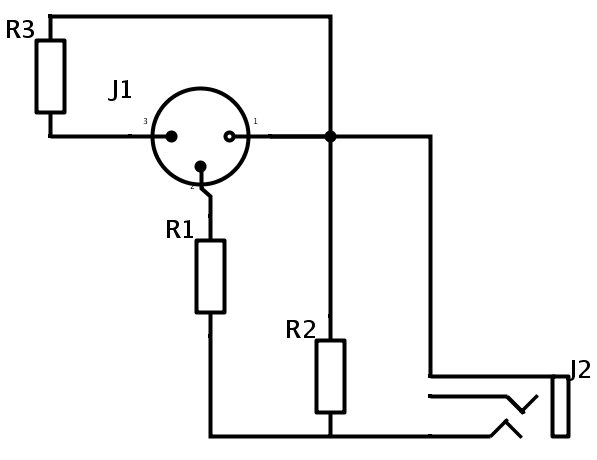 Drawn with Scheme-it 
 R1 = 27 kohms
 R2 = 2.2 kohms
 R3 = 27 kohms
 J1 = 3 pin XLR male
 J2 = 3.5 mm stereo jack

This circuit seems to work well. The voltage divider formed by R1+R2 make sure that the voltage the microphone sees is 4 volts or less (depending on load caused my microphone). The source impedance of the power source is also similar to the circuits in PC sound cards. R1 passes the signal to mixer + pin somewhat attenuated. R3 tries to provide approximately same load to – side of XLR as the + side gets (around same amount of current taken and similar AC impedance to take care of balance).
This circuit has been proven to work pretty well when the adapter was plugged directly to mixer XLR input or though short cable. Due high output impedance it might not be a good idea to use long cable. This circuit has limitation that it only works with PC microphones that have tip+ring directly wired together to two wire electret capsule as shown in Computer microphones web page:
Most of the PC microphones and PC headsets are wired in this way, but maybe not all. All the PC microphones and headsets I had access were wired in this way. You can check with a multimeter if your microphone is wired in the ways: just measure the resistance between tip and ring, it should be zero or almost zero. If that is the case my circuit works with it well. If the resistance is not zero or almost zero, there is no guarantee that things will work out as expected. The circuit can be built so small that it fits inside XLR connector: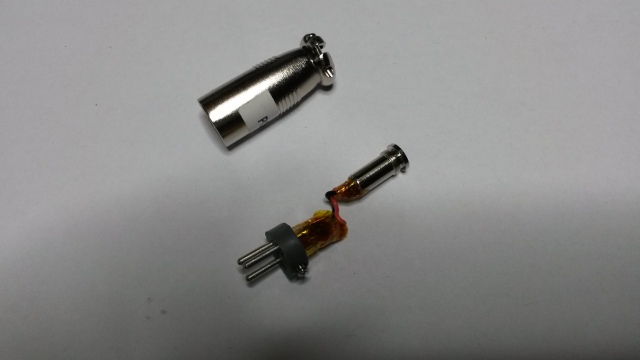 Here is the circuit in use: