I just built Android Cardboard DIY Virtual Reality Headset of which I mentioned in the blog two weeks ago.  Here is my DIY version. I had to make some changed to lens holding part, because the lenses I had were a little lit larger than the ones the headset was designed to use (not too hard, just cut larger hole with knife). Maybe my cutting could be more accurate or the cardboard should have been better quality, but anyway the plans worked.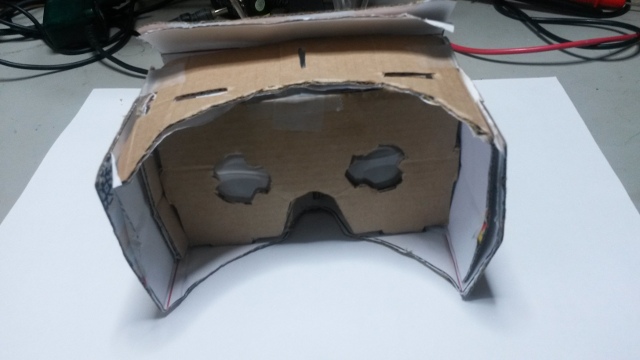 Plus: It works! It is much better than trying to use the app without the glasses. Give this as a toy to a kid and it is hard to get it back…
Minus: I used Samsung S4 Mini smart phone and I must say that the low screen resolution is clearly a limiting factor in picture quality. The screen parameters are 540 x 960 pixels, 4.3 inches (~256 ppi pixel density) which will makes in this use the individual pixels very much on this VR headset application (only 540×480 resolution per eye).
Also the magnetic button did not feel to be the most accurate means to control the phone. Sometimes it seemed to work well, and but it did not feel that it detected presses every time. Also the movement detection could be more accurate.
Still I think this was a good idea. On the Significance of Google's New Cardboard (Video) article also likes this cheap-and-cheerful (it's made of cardboard, after all) approach to nearly instant VR viewing. The basic idea for stereo viewing is from Viewmaster, which has been doing something similar for over 70 years with photos. You can of course can biy a slicker 3-D adapter for your smartphone from many companies. There are ready made products and third-party Cardboard kits that are getting ready to hit the market. For some more details on Google Cardboard, check my Android Cardboard DIY Virtual Reality Headset posting and On the Significance of Google's New Cardboard Video.