Have you ever wondered how stable voltage your USB power source gives and how much current does your device take (your mobile phone charging or own circuit? 0.28″ LED 3-Digit Red Display USB Power Charger Data Transmit Current Voltage Tester (3~10V/0~3A) is a product that can do that. It shows the charging voltage and current for mobile phone, mobile power supply, tablet or any similar device. The detection range is e3~10V / 0~3A. This is very suitable for USB meter because USB voltage is 4.75-5.25V (5 V ± 5%) range and current normally in 0-500 mA range (up to 1.5A for charging). This product has two LED displays at pretty compact size (6.9 cm x 2.6 cm x 1.9 cm).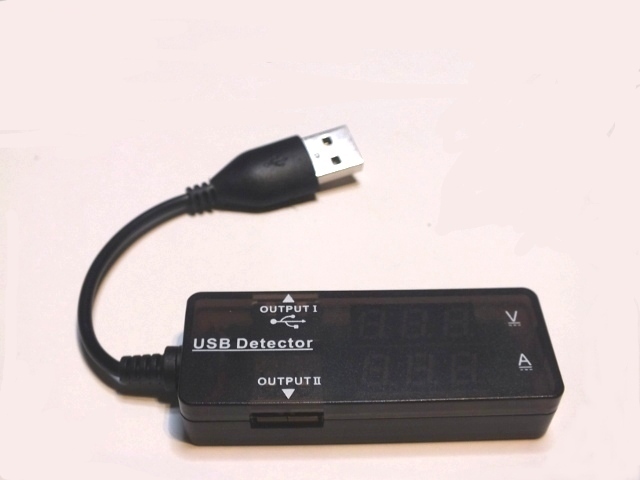 I have earlier tested another product USB-AV USB Power Current Voltage Tester – Translucent Blue + Silver. On thing on this earlier tested product that later annoyed me in lab testing was that the product all the time alternated between voltage and current display. For laboratory testing separate measurements displays for both voltage and current are a big plus so you can see the value you want to see all the time.
0.28″ LED 3-Digit Red Display USB Power Charger Data Transmit Current Voltage Tester (3~10V/0~3A) separate displays show both current and voltage all the time (display rate is 500mS). Promised accuracy 1% ± 2. I tested it against multimeter and another USB meter, and it feels that accuracy is good (could only verify that the measurements were accurate to at least few percent).  Current display starts showing current when current taken from USB port is 20 mA or higher. The measured voltage value seems the voltage the meter receives on the input connector (output voltage from meter is slightly lower at high currents due voltage drop in current shunt). The device takes it's operating power from USB port: Power consumption <20mA from USB.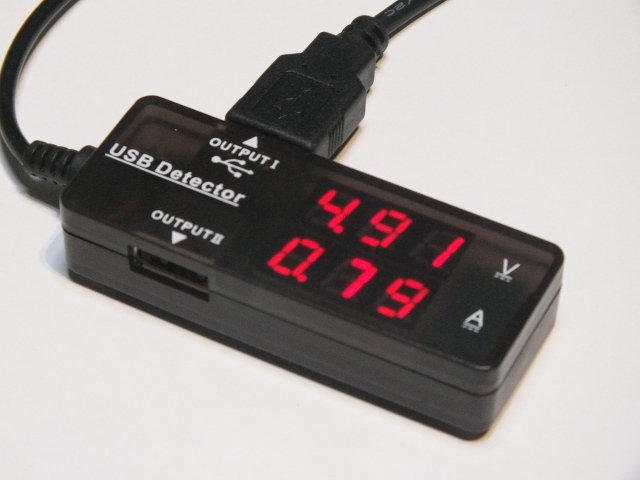 There is another USB output that provides only charging: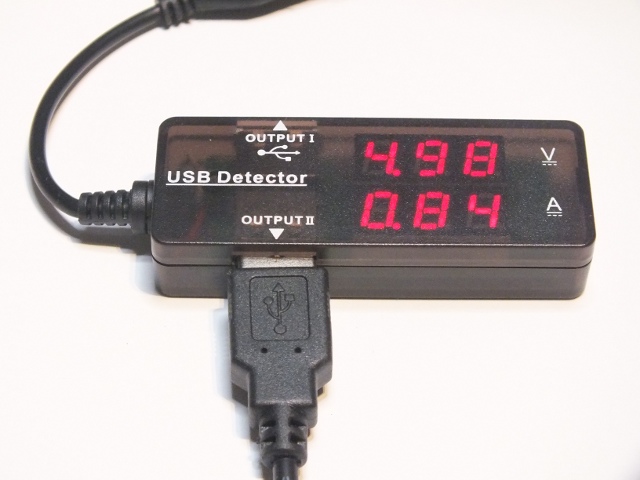 The functionality is similar to USB condom: just pass the charging power and do not allow any data communications. This is a good security feature because there are potential dangers when you connect USB cable. You plug the smartphone into a socket and it starts charging – the same as with a flashlight or a toothbrush, right? But, in fact, there are some hidden dangers which you need to be aware of. Public charging stations help smartphone users, but also open a new avenue for hacking.There is some electronics in this product that makes charging work as well on both charging ports, but data moves around at only port OUTPUT I. If you are unsure of some public charging location USB power output security, plug in the meter to it to see that voltage is OK. When this is checked to be OK, then plug your smart phone to OUTPUT II  so you get the charging power but the charging station can't try to hack your phone through USB data pins.
0.28″ LED 3-Digit Red Display USB Power Charger Data Transmit Current Voltage Tester (3~10V/0~3A) is well working USB charging meter that has also USB charging (hacking) protection functionality built into it. This is good to measure how well USB charging works, test USB power supplies and how much current your own USB hardware takes. The price is reasonable ($9.91 at time of writing this).