LED manufacturers continue to innovate to improve economies of scale. One of the newest packaging solutions designed to help lower costs is chip-on-board (COB) light source modules.
COB (Chips on Board) , is a technology of LED packaging: Multi LED chips are packaged together as one lighting module. When it light up, it looks like a lighting panel. The manufacturers use a number of small size of chips to make COB LED package that emits light in the way that avoids uncomfortable glare as much as possible: When it lights up, it looks like a lighting panel. Heat dissipation is a very important aspect of LED lighting since it can have a major impact on the life expectancy of the luminary, and COB module can be built to have very good heat sinking properties.
My testing in LED lighting continues with 4W 48led COB LED Chip 480mA White/Warm White For DIY DC 12V to see how this COB technology works in practice (good test object because so cheap, I paid around 1 Euro for this). Here is the module installed to an old PC CPU heat-sink and power wires soldered to it.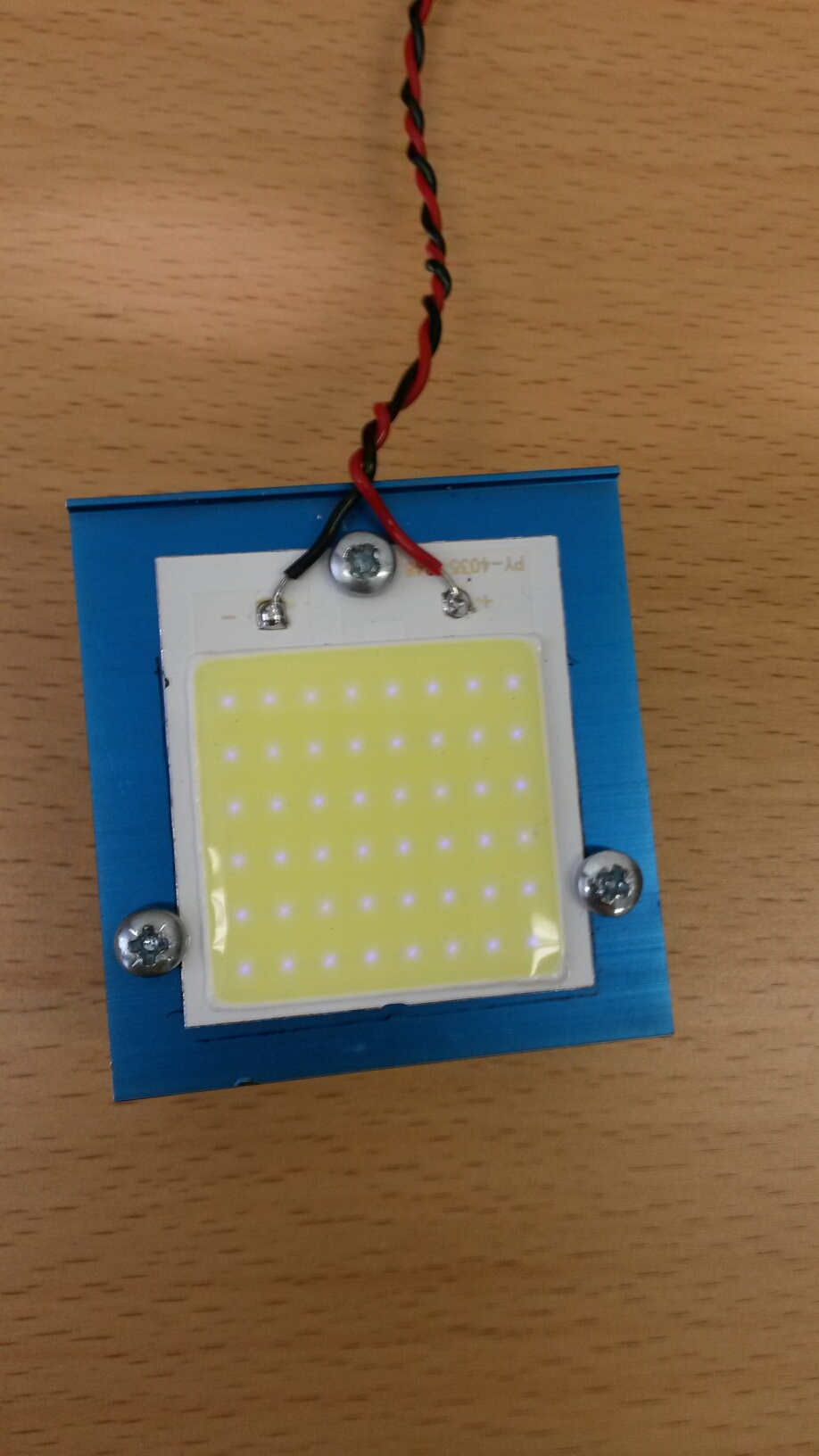 4W 48led COB LED Chip 480mA White/Warm White For DIY DC 12V data from product page:
Features:
Type: COB LED
Lighting angle: 180 degrees
Light color: Warm White / White
Color temperature: 3000-3500K / 6000-6500K
Power LED Qty Current Luminous flux Diameter Voltage:
4W 48led 480mA 400 LM 40*35MM DC 12V
In this specific LED COB module there are 48 tiny LEDs inside the package (according to provided data), mounted on metal (aluminum) circuit board and covered with fluorescent material and transparent protective package. Based on the LED voltage range it operates, I quess there are three or four LEDs wires in series string, and there are several such strings wired in parallel. E expect the configuration to be pretty much as in this picture from Why and How Chip-on-Board (COB) LEDs Reduce Cost and Save Energy in Lighting Designs article:
Measurement results with different voltages and the current with those voltages:
10V barely lights
11v 0.02A light out
12V 0.2A lots of light
13V 0.45A maximum brightness
With those results it seems that this LED module could be powered with fixed 12V power source if I don't need the maximum brightness (worked well with unregulated 12V DC 300 mA "wall wart"). If I want the maximum brightness, somewhat higher voltage and a constant current drive would be the best option.