A sauna is a small room or building designed as a place to experience dry or wet heat sessions, or an establishment with one or more of these facilities. The steam and high heat make the bathers perspire. In Europe, the Nordic countries have a sauna tradition. The Finnish sauna culture is well established; there are built-in-saunas in almost every house in Finland (there are at least 2 million saunas according to official registers for population of 5.4 million). A sauna session can be a social affair in which the participants disrobe and sit or recline in temperatures typically between 70 and 100 °C (158 and 212 °F). This induces relaxation and promotes sweating. Lobbyists want Finnish sauna rebranded abroad and when Finland launches national emojis to promote Finnishness Sauna was of course there: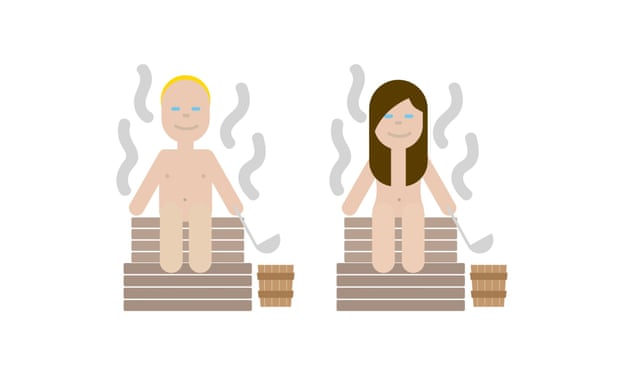 When sauna is so important, then we clearly need to have in Finland The World's Biggest Sauna! The students of Aalto University together with sponsors have built the The World's Biggest Sauna to Aalto University campus area in Espoo Finland as part of Wappu celebration. After the grand opening on April 23rd, up to 300 people are able to share the experience in the 310m2 (approx. 3337ft2) tent sauna with 4000 kg heating device kiuas. It should be big enough for at least for 300 people. It has almost double the size of the current record holding sauna located in Sinsheim, Germany. The people studying at the Aalto School of Science assure us that this is not a prank. Men and women can go to sauna together and before May Day ("Vappu", a big Finnish celebration, very popular among students). The sauna will be open between 23.4.-30.4. on the evenings and it is free to participate. The Sauna has a Facebook page.
The World's Biggest Sauna aims to be officially the biggest and to be recorded to Guinness World Records. There views that there could be challenges to get it hot enough to be recorded as official sauna, but according to Helsingin Sanomat over 300 square meter area also heats up quickly on upper deck to over 70 degrees (which should be enough to be considered real sauna). Here is Sauna picture from Vapaateekkarit Ry Wiikon Wappu Sauna gallery:

Sources and more material:
Lobbyists want Finnish sauna rebranded abroad
Espoon ME-saunominen voi kaatua tiukkaan lämpörajaan – "Työtä saa tehdä, että saunan saa kuumaksi"
Jättimäinen sauna nousi Espooseen: 4000-kiloinen kiuas, 300 saunojaa ja ME-yritys
Maailman suurimman saunan lauteet täyttyivät Espoossa – katso hikiset kuvat!
Jättimäinen sauna nousi Espooseen: 4000-kiloinen kiuas, 300 saunojaa ja ME-yritys
Maailman suurin sauna höyryää Espoon Otaniemessä – heti ensimmäisen tunnin aikana lauteille kiipesi parisataa saunojaa
Otaniemen jättisauna tavoittelee maailman suurimman saunan titteliä
300 pyllyä samoille lauteille – teekkarit rakentavat vapuksi maailman suurimmat löylyt
Wiikon Wappu Sauna on Facebook