EasyEDA
is an
integrated too
l for schematic capture, circuit simulation and PCB layout that you use with your web browser.
EasyEDA homepage
advertises: "EasyEDA is a free, zero-install, Web and Cloud-based EDA tool suite, integrating powerful schematic capture, mixed-mode circuit simulator and PCB layout in a seamless cross-platform browser environment, for electronic engineers, educators, students and hobbyists."
EasyEDA allows
the creation and editing of schematic diagrams,
SPICE
simulation (
based on
Ngspice
) of mixed analogue and digital circuits and the creation and editing of printed circuit board layouts. Being web-based and running in a browser, there is essentially nothing to be routinely downloaded or installed to the local machine and it is it is essentially platform and OS independent.
EasyEDA offers a PCB fabrication service. If you want to manufacture the board yourself or use other manufacturer, there is option for registered users to downloadGerber files from the tool free of charge. Also printable PCB layer image output is also supported in PDF, PNG and SVG formats for home PCB etching.
EasyEDA can also work with project designed with other tools. Import from
Altium Designer
,
CircuitMaker
,
Eagle
,
Kicad
,
LTspice
file formats and generic SPICE netlists is supported. SPICE netlists can be exported to third party simulation tools and export of PCB netlists in
Altium
,
PADS
and
FreePCB
formats is also supported.
I made some testing with Arduino Nano + WS2812 LEDs example. Here is the circuit diagram: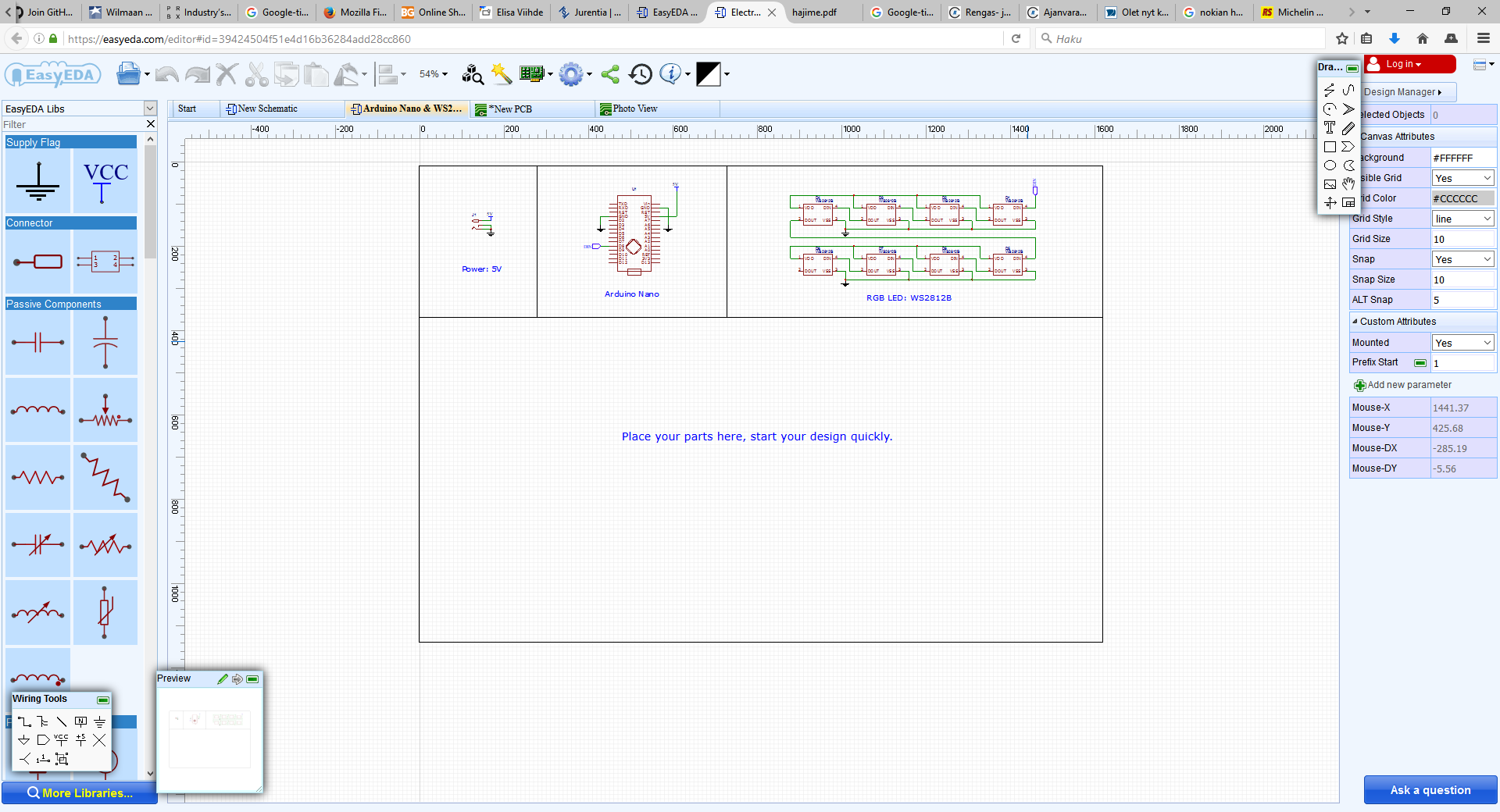 It was pretty easy to use the tool to convert the design to a circuit board. I opened the circuit board design, moved the components to suitable locations, and used auto-router to get board routed. In this kind of pretty slow speed circuit with enough space the default auto-router seemed to do decent job.
As the result I got the circuit board designed. I can get the view of the assembled circuit board: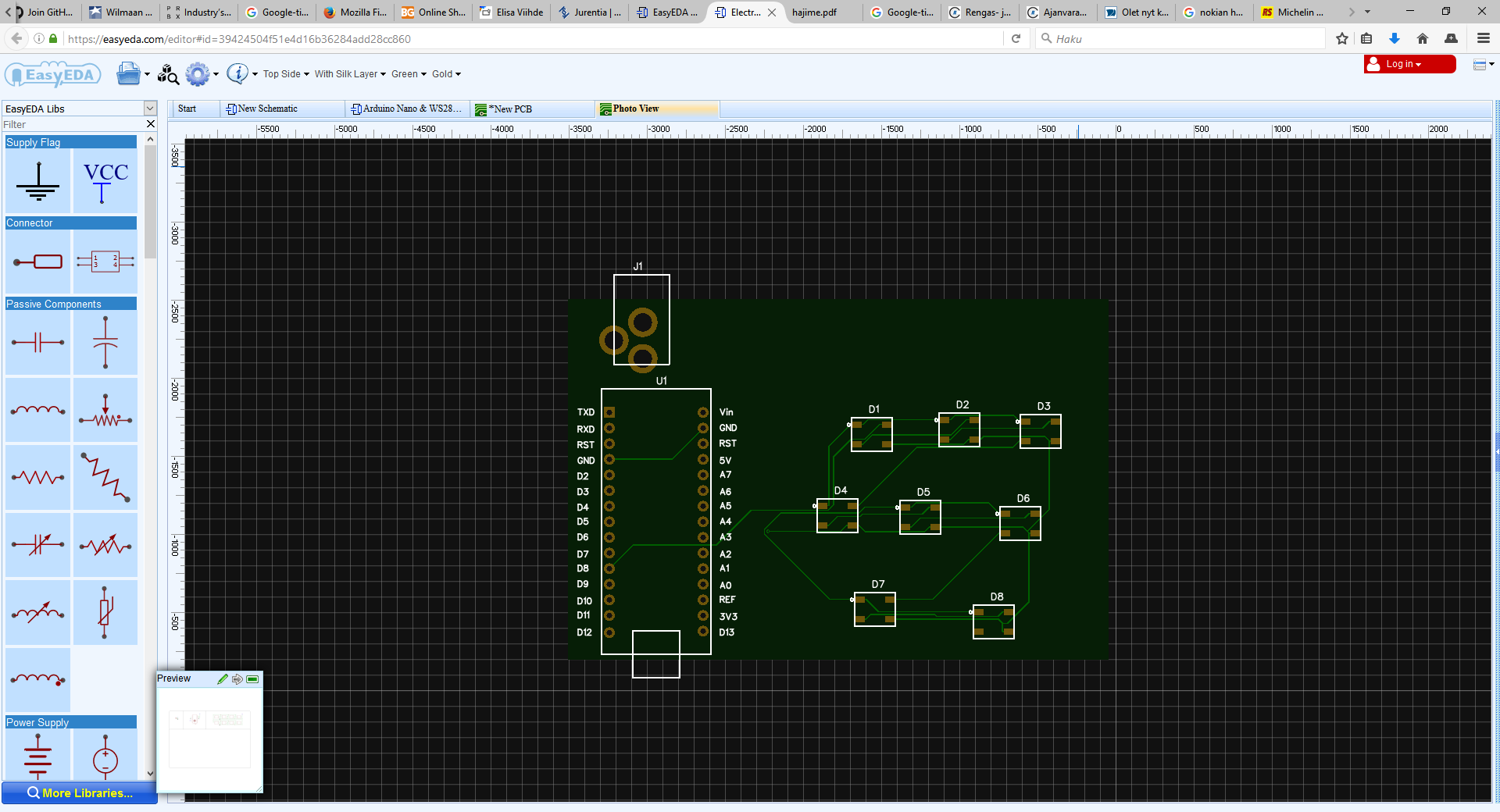 Here is the view to circuit board copper traces: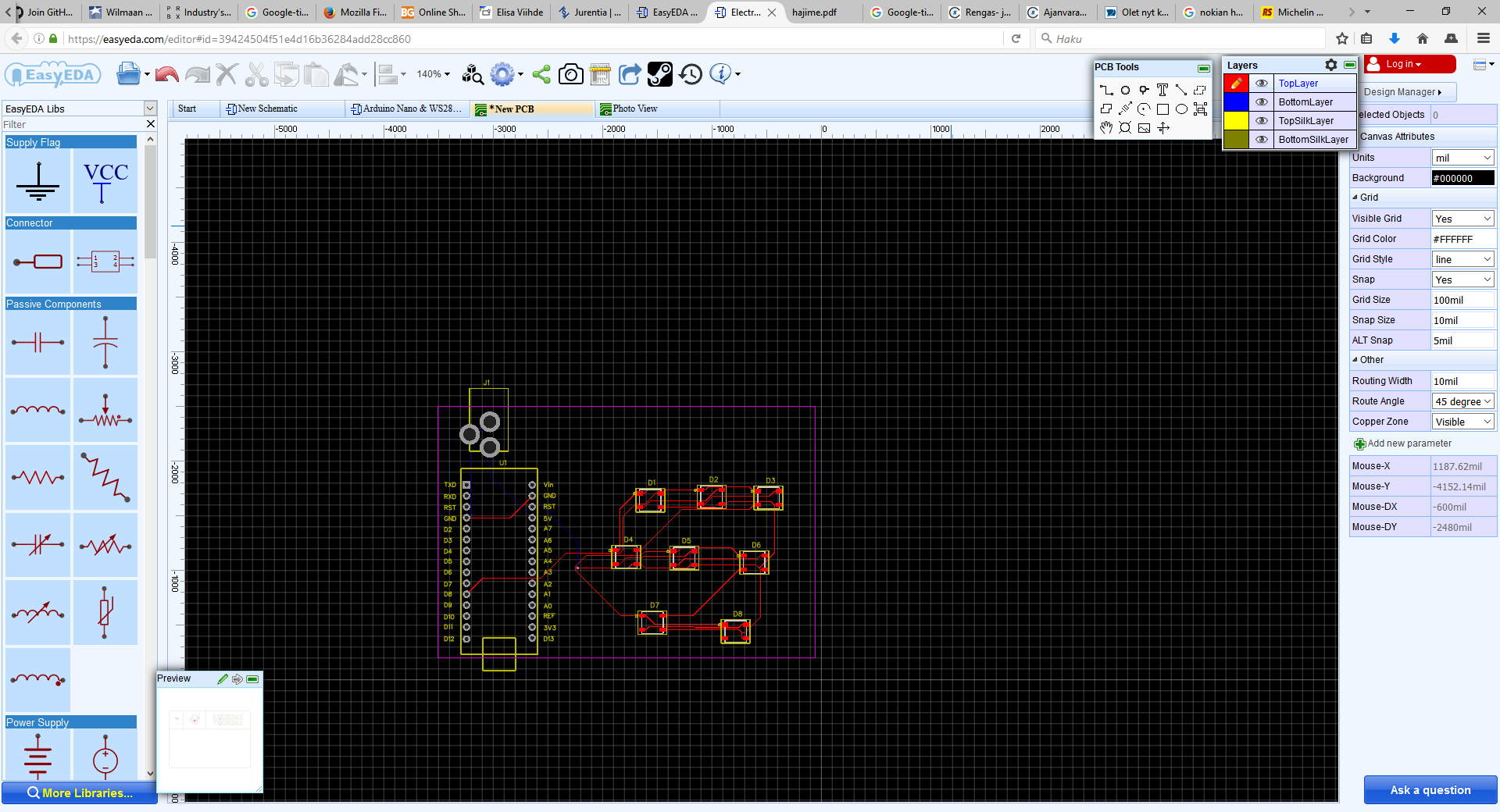 I got the Arduino Nano + WS2812 LEDs example working nicely. Some other examples has some issues, for example CH340_USB to TTL could not be converted to PCB as it is (some issue with USB connector case type not correct). Other issues with Auto-router was that on one location with tight firewall rules, I could use EasyEDA editor nicely, but trying to use autorouter ends up with "Network Error." Manual routing worked well. Here I do some manual routing to ESP8266 example circuit: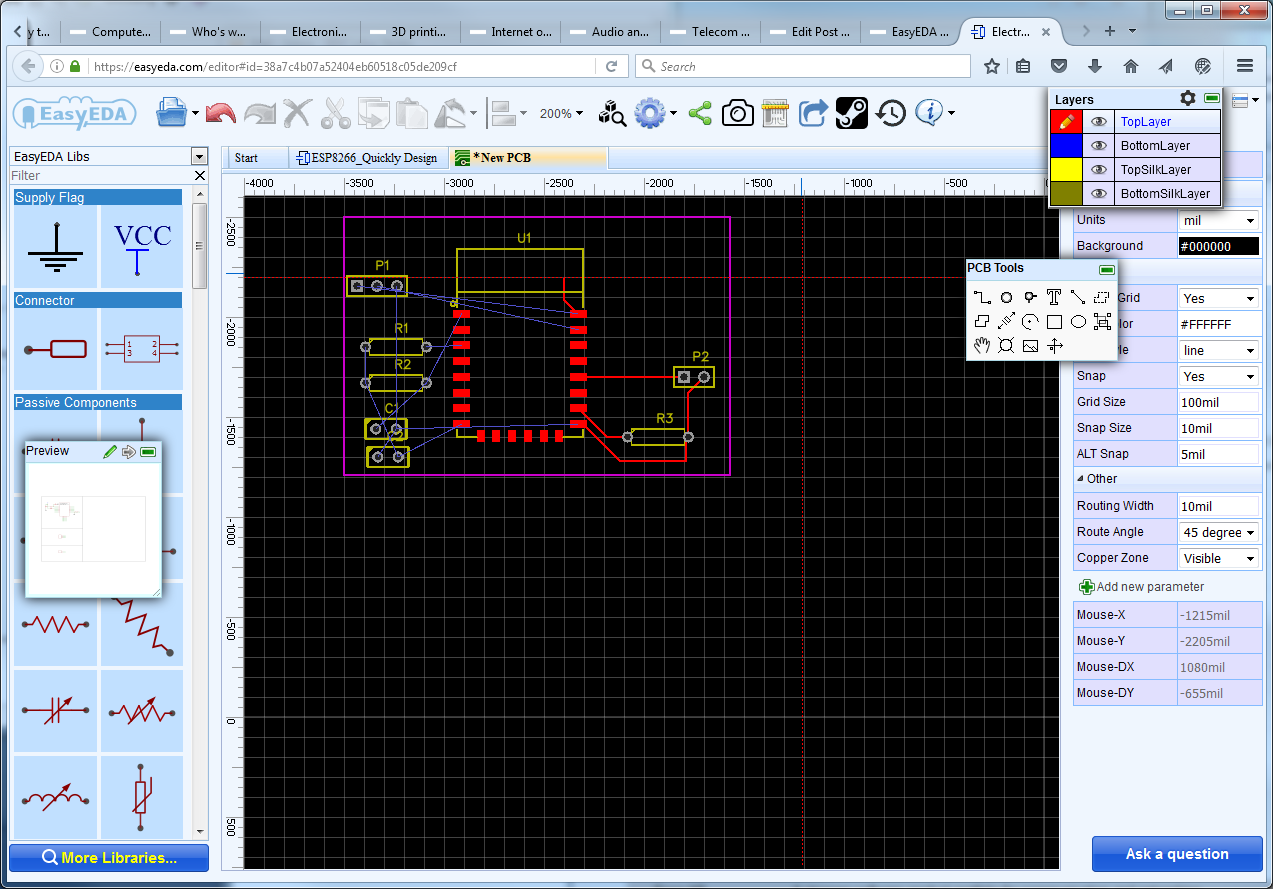 There are some worth to check out tutorial videos on EasyEDA:
EasyEDA – Free Electronics Circuit & PCB Design + Simulation Online Software Review video gives a nice overview on how to use EasyEDA.
EasyEDA also advertises option to use clever spice circuit simulator to verify analog, digital and mixed signal circuits.  Use spice to simulate subcircuits and models! EasyEDA Toturial – 4.1 Electronic circuit simulation_How to create Schematic Simulation File video and Spice Simulation Tutorial give overview hot to use circuit simulator.
EasyEDA looks like a very promising electronics design software that I plan to spend more time with in learning how to use it well (for example test the circuit simulator and maybe embed some schematics to this blog). If you got somewhat interested, just start experimenting by opening the EasyEDA editor (no registration needed to start testing with example circuits). You can find an useful tutorial and lots of example circuits on the EasyEDA site.